If you've been wooed by Bridgerton show and you're a fan, you're far from alone — the Regency-era soapy drama is Netflix's biggest show ever. And it's no wonder: Based on Julia Quinn's books, it lives up to its Shondaland label with copious amounts of scandalous drama, bosom-heaving romance, and no shortage of sex. If you, like us, went on a binge, then you're in the market for equally juicy, Bridgerton-like shows to feast on. TV Insider gave us some alternative shows we (Bridgerton fans) are sure to love: from the sizzling drama Outlander to the period show with modern flair that is Apple TV+'s Dickinson.
Dickinson (Apple TV+)
Alena Smith's bold (and fictionalized) look at Emily Dickinson's (Hailee Steinfeld) life utilizes modern music and vernacular while remaining true to history. Along with depicting her steamy romantic connection with Sue (Ella Hunt), Dickinson taps into Emily's reality. Shows viewers just how deeply her world resonates with our own today. The lush sets and costumes equal Bridgerton's and Dickinson's willingness to push boundaries makes it an engrossing binge.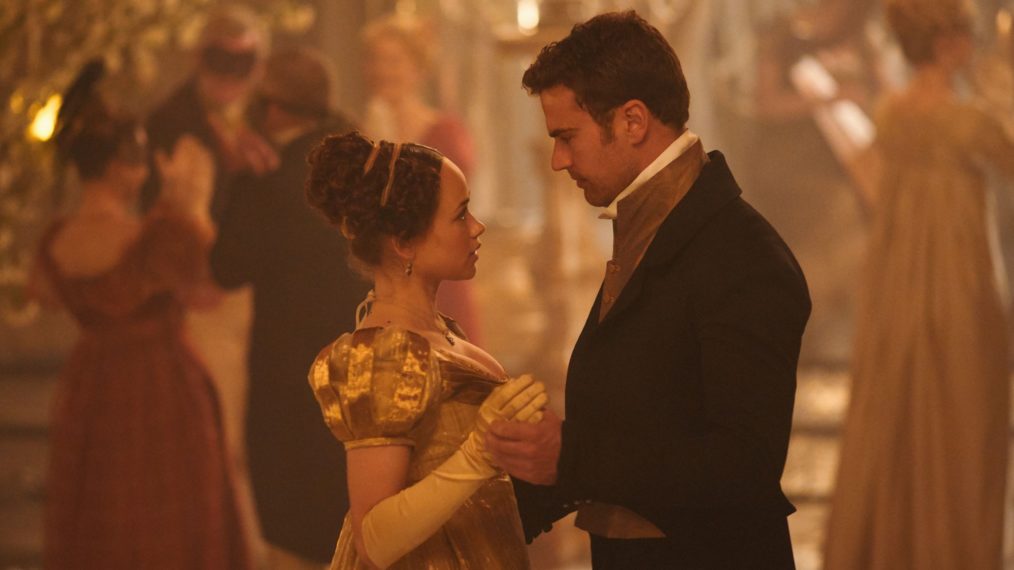 Sanditon (Amazon Prime Video)
If it's all about the Regency era for you, Masterpiece's Sanditon is worth your time. Based on Jane Austen's final literary work before her death, this series focuses on the relationship between a country girl named Charlotte Heywood (Rose Williams) and the dashing but distant Sidney Parker (Theo James). With plenty of other characters in the mix, there's more than enough plot to go around. All of it set against the backdrop of the titular resort town that seems to have a lot of lavish balls.
Outlander (Starz and Netflix)
Bridgerton brought the heat with Daphne (Phoebe Dynevor) and Simon (Regé-Jean Page), but their passion is just a fraction of that between Outlander's Jamie (Sam Heughan) and Claire Fraser (Caitriona Balfe). At the center of Starz's successful fantasy drama are the 18th-century Highlander warrior and 20th-century combat nurse, who meet when she's whisked through space and time at the standing stones of Craigh Na Dun. Spanning decades, their epic tale is chronicled throughout five seasons (Season 6 is currently gearing up for production). (Note*Only Seasons 1-4 are currently streaming on Netflix)
The Crown (Netflix)
Looking for a regal drama? Try Peter Morgan's dramatization of Queen Elizabeth II's reign in The Crown. Beginning with her early days, the show carries on through the decades as Elizabeth encounters new prime ministers, global issues, and familial challenges. Similar to Bridgerton, there's a strong emphasis on the importance of duty and honor, and with the Season 4 addition of Princess Diana (Emma Corrin) it's can't-miss TV.
Downton Abbey (Peacock and Amazon Prime Video)
If you've yet to tune into the riveting drama surrounding the aristocratic Crawley family and their servants, Downton Abbey could be the perfect post Bridgerton-binge. The show debuted in 2010 and ran for six seasons through 2015, plus a follow-up film arrived in 2019. The upstairs-downstairs storylines are definitely in the vein of Bridgerton's high-society intrigue.
What do you think about these shows as a Bridgerton fan?
Keep following us for more news on Outlander e its cast!
Chiara
Please step by our Facebook page SurvivedtheShows too