Questo non è esattamente il tipo di produzione che Matthew Roberts e il team di Outlander si sarebbero aspettati per la Stagione 6 del dramma sui viaggi nel tempo della STARZ. L'importante però è una cosa sola: Le riprese della Stagione 6 di Outlander sono ufficialmente iniziate!
A partire dalla scorsa primavera, quando la pandemia ha iniziato la sua ascesa portando al fermo l'industria televisiva, la produzione di Outlander 6 ha vissuto di incertezze, rimandando le riprese fino a questo momento. Come riferisce il produttore esecutivo della serie, Matthew Roberts in un'intervista esclusiva ad Elle, "è stato straziante in molti modi diversi, ma allo stesso tempo la salute dell'intero universo era più importante di una serie televisiva. Lo sapevamo." L'unica soluzione era quella di aspettare e poi fare tamponi su tamponi in modo da tenere tutti, sia attori che troupe, al sicuro durante le riprese.
Nell'intervista, Matthew Roberts ha raccontato com'è girare Outlander in questo periodo e cosa possiamo aspettarci da questa stagione 6.
Non sapendo come si scrivono scene "a prova di Covid", Roberts spiega che hanno dovuto trovare un modo per mantenere la natura di Outlander in questo periodo. Loro hanno scritto i copioni come era pianificato fin dall'inizio e poi hanno giostrato il tutto in produzione.
"Il nostro produttore nel Regno Unito, Guy Tannahill, e il nostro nuovo scenografo, Mike Gunn, e il nostro staff laggiù lavora ad Outlander da molto tempo. Noi abbiamo detto, "Ok, questa scena non può svolgersi così. Se facessimo così, così, e così, allora possiamo farla." dice il produttore esecutivo.
Hanno cercato di limitare la quantità di comparse, e utilizzare gli effetti speciali. Gireranno le scene con le comparse a sfondo in un momento a parte, poi metteranno tutto insieme in post-produzione, e il risultato sarà senza alcuna differenza. Matthew Roberts ha totale fiducia delle abilità degli addetti agli effetti speciali di Outlander. "In realtà abbiamo già grande esperienza con questo genere di scene perchè molte delle scene della battaglia di Alamance vedevano l'uso di persone digitali. Abbiamo aggiunto ai numeri della folla e della battaglia con soldati digitali e conflitti nello sfondo in post-produzione, e non mi sembra di sentire persone che ne parlano. Quando nessuno nota gli effetti speciali, quella è buona cosa." aggiunge lui.
Un copione non può vivere e respirare per davvero finché non va in produzione, come dice Matthew Roberts.
"Quindi i copioni non iniziano ad esistere secondo me finché non entrano nelle mani della produzione. È allora che iniziano a pulsare e a prendere vita. E li rielaboriamo, ecco perché vedete le diverse sceneggiature colorate, rosa e giallo e verde. Vivono e respirano attraverso la produzione e il cambiamento. "Non possiamo farlo in questa posizione così ci siamo spostati in un'altra," o "Ehi, questo può avvenire nel salotto invece della sala da pranzo a causa di questo?" Poi, anche quando arriviamo a postare, la storia non è finita per me finché il pubblico non lo vede."

Il produttore esecutivo di Outlander, Matthew Roberts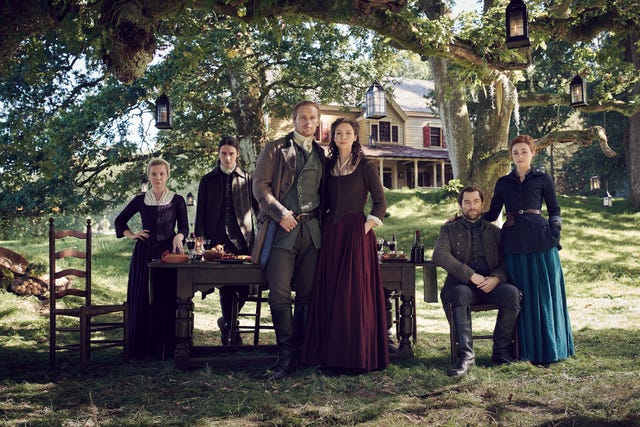 Parlando degli eventi principali della Stagione 6, il produttore esecutivo di Outlander dice che non ci sarà alcun salto temporale significativo dopo gli eventi del finale della Stagione 5, dal momento che ci sono molte parti della storia da collegare, molte cose lasciate indietro dal finale della stagione 5 e che devono essere ancora raccontate. La Stagione 6 inizierà con ciò che succede nel mondo nel 1775, il che è molto simile a quello che sta succedendo da Jamie e Claire. Secondo le parole di Roberts, la stagione avrà a che fare con la rivoluzione, sia politica che personale.
"Si ha un fondamento e quando quel fondamento viene scosso e c'è una rivoluzione, bisogna affrontarla. Questo è più o meno il tema della stagione" – Matthew B Roberts.
La prima puntata della stagione si intitola "Echoes." e sapendo che le persone scavalcheranno il fatto che il titolo può rimandare a An Echo in the Bone (Il libro 7 della saga di Diana Gabaldon), Matthew Roberts chiarisce immediatamente che non è un rimando.
"Quando vedrete il primo episodio, il titolo parlerà da sé. Ogni personaggio affronterò qualcosa dal proprio passato e questo ci aiuterà a raccontare delle storie andando avanti. Nella mia prima bozza c'era un altro titolo. Alle volte capita. Lo leggi ancora e pensi, aspetta un minuto, aspetta, c'è qualcosa di migliore qui." anticipa Roberts.
Quando gli viene chiesto se possiamo aspettarci altri episodi sul genere di 'Never My Love' o "Famous Last Words" nella Stagione 6, il produttore esecutivo conferma che ce ne saranno altri.
Con i libri di Diana che scavano a fondo nei sentimenti e le emozioni dei personaggi nelle loro menti, è qualcosa di davvero difficile da trasporre sullo schermo a livello visivo. Dal primo giorno, come dice Roberts, loro volevano superare i confini ed entrare nella testa di Roger nel momento dell'impiccagione e nella mente di Claire nel momento dello stupro.
"Stiamo cercando di fare una cosa del genere nuovamente nella stagione 6 ma senza deviare dalla storia. Quella è la chiave principale per realizzare la serie e farlo bene: in ogni scena, vogliamo mantenere l'essenza del libro se non possiamo mantenere la scena originale del libro. C'è molto altro materiale nei libri rispetto a quello che potremmo mai sperare di produrre, quindi è sempre difficile ed una sfida." ha aggiunto.
Il produttore di Outlander ci tiene a ribadire che sanno che Stagione 5 ha portato molti nuovi spettatori e molti di loro non hanno letto i libri. A quegli spettatori devi raccontare la stessa storia che c'è nei libri e stupirli, così come deve succedere con coloro che hanno letto i libri, i quali sanno già tutto ciò che deve succedere — (o meglio, pensano di sapere tutto ciò che deve succedere, come a Roberts piace ricordare).
"Certamente, cerchiamo di tenerli sulle spine e spostare un po' le cose così che non sappiano esattamente quando quella cosa avverrà. Non sto cercando di cambiare la storia. Vogliamo solo cercare delle sfide. Se non possiamo avere la disponibilità di un attore o di una location. E' davvero difficile far funzione tutto insieme alle volte." aggiunge Roberts.
Continuate a seguirci per altre novità su Outlander e il suo cast!
Chiara
Non dimenticate di visitare la nostra pagina Facebook Survived The Shows e mettere mi piace per rimanere sempre aggiornati!