Ad una sola stagione dalla conclusione di The Walking Dead, AMC annuncia l'arrivo di un cooking show ispirato all'Apocalisse zombie. «Run the dish».
Cosa hanno in comune gli zombie con i cuochi? Davvero difficile a dirsi, ma, come ci anticipa Vanity Fair Italia, AMC, la rete madre di The Walking Dead, ha deciso di regalare ai suoi personaggi una nuova, e più allegra dimensione. Il canale, in collaborazione con Complex Networks, sta lavorando ad un cooking show originale, che possa unire l'universo mortifero di The Walking Dead con i sapori e i profumi di First we feast, canale Youtube ormai super conosciuto di cucina e ricette.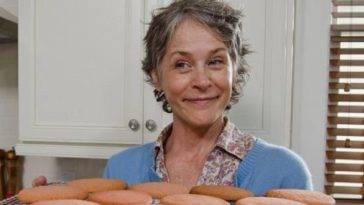 Lo show, dal titolo Run the dish, viene descritto come un programma capace di «sfruttare la forza del cibo e del fandom» per creare uno spettacolo «non convenzionale», all'interno del quale ci saranno tanti «piatti ispirati all'Apocalisse zombie, creati da chef e talenti dell'universo di The Walking Dead».
Il dramma sugli zombie, dunque, pronta a concludersi con l'undicesima stagione, avrà come progetto collaterale qualcosa di diverso, che possa restituire ai suoi protagonisti una dimensione inedita. A cucinare, in Run the dish, dovrebbero essere, infatti, attori e attrici di The Walking Dead.
Continuate a seguirci per altre novità su The Walking Dead e tutto l'universo degli zombie.
Chiara
Non dimenticate di visitare la nostra pagina Facebook Survived The Shows e mettere mi piace per rimanere sempre aggiornati!