Besides all the amazing performances he gave us on Outlander, Richard Rankin's talent extends to musical!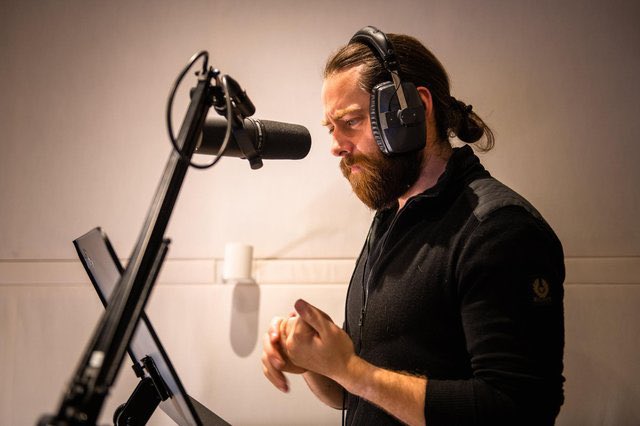 It wasn't enough to work at Outlander Season 6 all week, Richard Rankin didn't hesitate to join a new project dedicated to his homeland, Scotland.
The musical podcast The Atlantic is based on the real-life experiences of late 19th and early 20th-century islanders on the scottish island of St. Kilda, as reported by The Scotsman. It will see the Scottish actor Richard Rankin among its protagonists alongside Kate Dickie, David Hayman, Blythe Duff and John Kielty.
The project boasts the signature of two of Scotland's greatest musical theatre creators!
Writer/director Scott Gilmour and composer/musical director Claire McKenzie have created brand new music and songs for the eight-part podcast. It also features traditional Gaelic material, performed by Ainsley Hamill.
Creative Scotland-funded series, which features a four-strong musical ensemble, has evolved from a 2017 stage show co-commissioned from Mr Gilmour and Ms McKenzie by the Royal Conservatoire of Scotland to the new podcast. The podcast was developed after an approach to The Big Light last year months into the ongoing shutdown of the theatre industry.
The idea for The Atlantic came from talking about Scottish identity and heritage…
"It sparked the idea of a story about a community which had been in the same place for hundreds of years and we set it in St Kilda.

It followed the story of two main characters, who still exist in the podcast, but the thing that didn't crop up much was the story of St Kilda and its community and influenced how we approached the writing, but it wasn't the driving force of the stage show.The series has allowed us to go into a lot more detailed storytelling about the community and the eventual decision of the islanders to evacuate St Kilda, across the last 50 years of it being inhabited.

Through the eyes of two young islanders, we meet at the beginning who go on very different paths. Across the arc of the podcast, we see how St Kilda is affected and influenced by the growing changes in mainland Scotland and the all shifts happening across the world."

Writer/Director Scott Gilmour
Outlander actor Richard Rankin will also be filming a new short film in Dundee. Alongside the Scottish actor there will be the Game of Thrones actress Kate Dickie
'Hello, Muscles' is a new short film and digital campaign. It will seek to highlight the overlooked issue and drive awareness for young carers. The film will also become a central tool in the education of young adults and children across the UK, according to the production company.
Keep following us for more news on Outlander Season 6 and its cast!
Chiara
Please step by our Facebook page SurvivedtheShows too