With Outlander Seasong 6 being just around the corner, it's time to start warming up production engines for Season 7 of STARZ's time travel drama!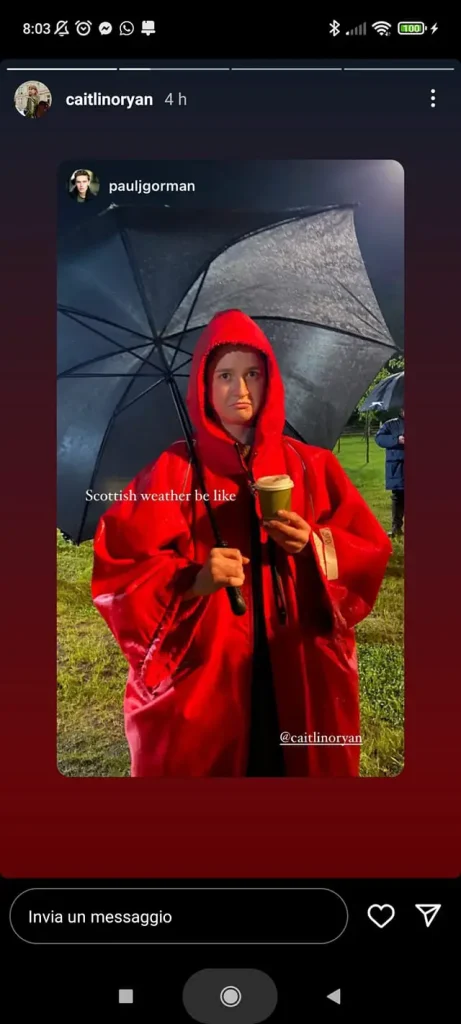 According to a Twitter announcement by Screen Scotland, later retweeted by Outlander lead Sam Heughan, the production is starting to look for new crew members, ahead of the start of filming Season 7, which, according to what executive producer Maril Davis told at New York Comic Con, should start in Spring 2022
Moreover, Caitriona Balfe, who recently joined Josh Horowitz in a new episode of his talk show Happy, Sad, Confused, also teased the fact that some of the first scripts from Outlander Season 7 are ready and she's waiting to read them and get ready to start filming a super-sized season, which will feature 16 episodes!
"The first two eps are in my inbox so it's exciting, we're gearing up to get back on it. It'll be a tough one, we'll be shooting for a whole year. So in the words of Dougal McKenzie, we're going to gird our loins."

Caitriona Balfe
The Irish star joked that when the first two scripts landed she was up at 3.30 am feeding her son, so she was feeling a bit cross-eyed when trying to read the scripts.
What do we know so far about Outlander Season 7?
Actually, it's not much what we know about Outlander Season 7, but we'll keep you updated if there are any news!
Except for upheavals by writers, Outlander Season 7 will be based primarily on the events of book 7 in the literary series by Diana Gabaldon, An Echo in The Bone. In addition, to compensate for the reduction in the number of episodes for season 6, the following season 7 will be composed of 16 episodes. A return to the origins, being the same number of episodes of the first season!
The announcement that Outlander was renewed for Season 7 happened on March 14 while Season 6 was in production after delays due to COVID-19.
According to some casual spoilers from Sophie Skelton and Richard Rankin at the Outlander Season 6 premiere event, Season 7 will feature scenes with Brianna Fraser driving a 1980s car of her own! Will they go back to the future this season?
In an interview with us from Survived The Shows, Diana Gabaldon also teased the presence of a voice-over with a speech taken from a Jamie-Claire prologue in the books.
Where can viewers expect Outlander Season 7 to start the action? Star Sam Heughan recently told US Weekly:
We pick up shortly after with the end of last season, which is a great cliffhanger. America really is in sort of turmoil. There's revolution, and Jamie and Claire are separated. The prophecy of Jamie and Claire's death, you know, that they're supposed to die in a fire. There's just so much going on.

Sam Heughan
In a recent interview with Gold Derby, Caitriona Balfe shared an update about how the filming for Outlander Season 7 is going.
It's been really a great start. I mean, I would say for all of us this has felt like such a rejuvination, because I think obviously last season was really tough. […] But this season it felt really strong, we had an amazing director for the first two eps, Lisa Clarke. She has been fantastic – really really beautiful strong eps. We've just wrapped three and four with director Jackie Gold and it was really really great, you know, the scripts are great. We have a lot of scripts in early, so we all feel very organized. We're all excited about it.

Caitriona Balfe
According to the actress, they will be filming 'til February-March next year.
Meet William Ransom!
Long awaited by fans of the saga, Outlander has finally found its young William Ransom, Ninth Earl of Ellesmere, illegitimate son of Jamie Fraser then adopted by Lord John Grey: Charles Vandervaart.
As a consultant on the show, Diana Gabaldon confirmed she knew about the renewal before the public did. With that said, she admits that she — and pretty much everyone else involved in the TV production — "totally don't know" what the future holds after that.
"We don't know whether seven is the last bit we'll get. If it is still going strong and if our lead actors are inclined to go on and [the production company] Sony is inclined to go on, who knows? But there's just way too many imponderables to predict."

Diana Gabaldon
"Listen, I'd love a Season 8, so I think we're all ready to do it if we get the go-ahead. But, obviously, yes, I hope [we find out] in enough time to do justice to it. Also, the longer we wait, the longer the Droughtlander would be because this show is such a massive endeavor, it takes a long time to get it up on its feet. I hope they tell us. I would love to know earlier rather than later, so, hopefully, we will know soon."

EP Maril Davis to Parade.com
It is also well known that Gabaldon revealed to the series creator, Ron Moore, and leads Sam Heughan and Caitriona Balfe, the ending of the series, in addition to the identity of the famous ghost of the Scotsman who shooked us in the first episode. All of us fans we hope they will continue to tell us more of the adventures of the Frasers for another 20 years, but in case Outlander ended with season 7, will the authors manage to give a dignified and sensible conclusion, reconnecting the events to the final still unknown to us?
We just have to wait and see what surprises the writers have in store for us!
Keep following us for more news on Outlander Season 6 and its cast!
Chiara
Don't forget to like us on Facebook, Instagram and Twitter, Survived The Shows / @survivedtheshows / @SurvivedShows to keep updated!