Based on a recent Instagram post by Marina Squierciati, however, there's going to be a lot more drama than expected on Chicago PD. The actress, who plays Kim Burgess, teased a crossover event between Chicago PD and Chicago Med in the upcoming season.
"First day back and I came to the wrong show", she wrote in the caption. "Whoops." The photo sees Squierciati posing with Med cast members S. Epatha Merkerson and Nick Gehlfuss, who play Dr. Goodwin and Halstead, respectively. To make matters even more exciting, the actress tagged the photo with the hashtags "crossover" and "we're back."
Covid challenged the crossover episodes in the One Chicago world, but there is one storyline in particular the producers are "dying" to do!
Chicago Fire EP Andrea Newman admitted, "This year the COVID thing has made them really tricky because of all the protocols, so I think that threw us off a bit this year." But they have something MAJOR in mind.
"I've been dying to do the burning hospital for a long time," Newman added. "There are all these protocols for when a hospital is on fire and things that have to happen. We've been wanting to do that one and loop P.D. into that but we haven't had a chance this year."
Chicago Fire creator Derek Haas added, "For some reason the Chicago Med showrunners don't like when we keep suggesting we burn down the Chicago Med hospital."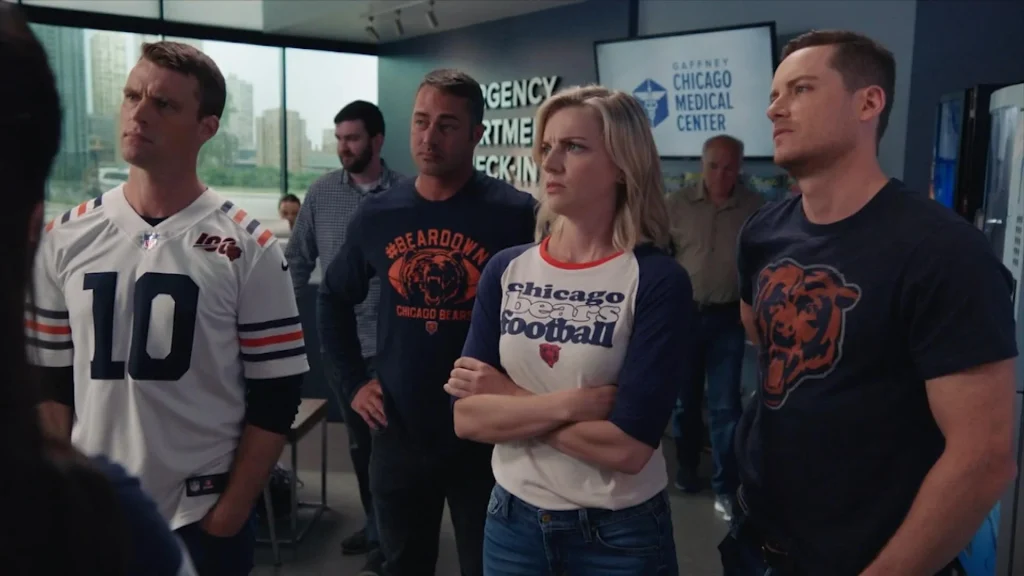 Already at the beginning of this year the writers of One Chicago Franchising expressed their desire to continue to create storylines between all One Chicago shows, despite the challenge given by Covid-19 pandemic. Derek Haas said it seems that they will continue with their intent: maybe, in 2022 we will have a crossover between Chicago Fire and PD.
Derek Haas and Gwen Sigan are arranging to create a crossover for the One Chicago World in 2022
Back in December, Derek Haas said he was contacted by new Chicago PD showrunner, Gwen Sigan, who has just been hired to replace Rick Eid. The showrunner asked him to create a crossover on episode 18 of this season. Let's see in detail what he said.
Gwen [Sigan], the new showrunner on Chicago P.D., just emailed me and was like, "Are we doing one of these mini crossovers for Episode 18?" — sometimes we just do it between Fire and P.D. — and I was like, "Oh, let me get back into that." Because we had always talked about it. So yes, maybe Episode 18 will at least be a Fire–P.D. crossover, but that's not set in stone.

Derek Haas, Chicago Fire's showrunner
It seems that nothing is determined yet but the intentions seem to be proactive. Showrunners seem as happy as we are to be able to organize crossovers between Chicago shows.
Update on April 14 2022
"It's a real showcase and very exciting. When Derek called me [about] Episode 18, I got really, really excited when we were speaking on the phone, and I know that the audience will love it too. It ticks a lot of boxes." – Derek Haas
What do you think of the idea of having a crossover between Chicago Fire, Med and PD about the hospital burning?
Keep following us to stay updated on the news of the world of One Chicago!
Chiara
Please step by our Facebook page SurvivedtheShows, Instagram page @survivedtheshows and Twitter page @SurvivedShows to keep yourself updated!