Welcome back to our favourite Friday trash date with our review of Dynasty Season 4, episode 2! Finally our OTP, Fallon and Liam's special day has come, but although the two are not supersticious, let's say that luck isn't exactly on their side… How strange, isn't it? ?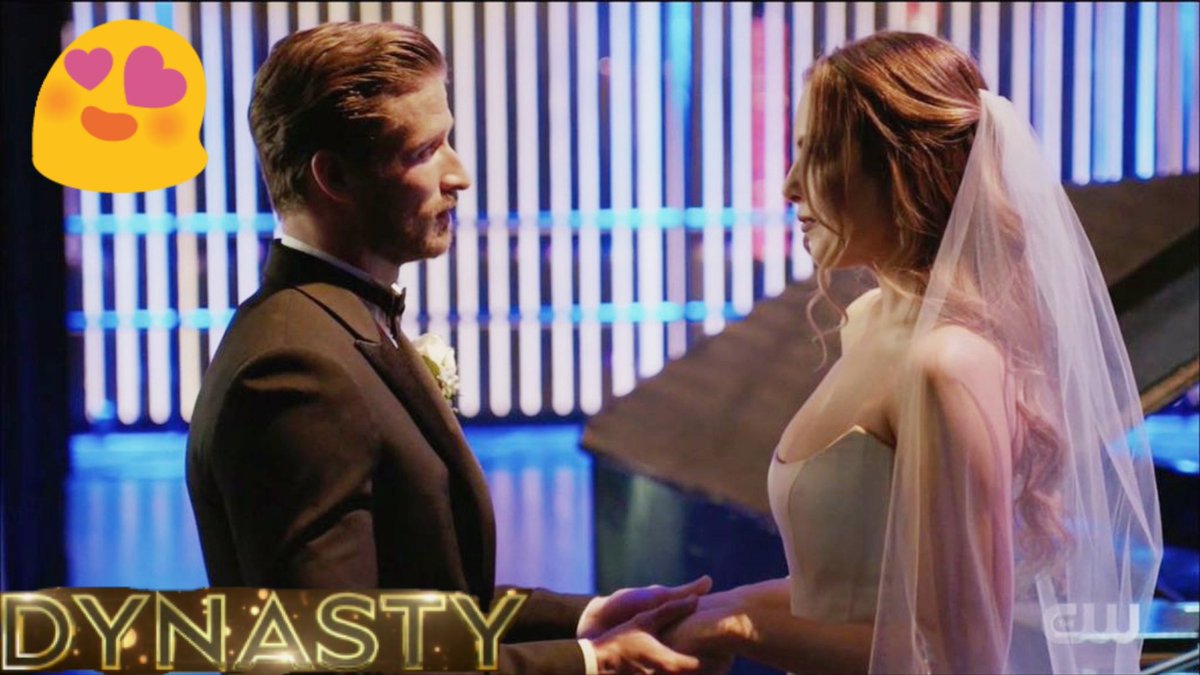 The golden couple Fallon Carrington (Elizabeth Gillies) and Liam Ridley (Adam Huber) doesn't mind superstitions because they are finally getting married! But will it be the right choice? I wouldn't be so sure, all the more so if the couple wants a quiet and peaceful marriage without drama.
In fact, a few hours later, drama begins. 
First, Fallon falls and sprains an ankle, then what the bride's parents are up to is revealed: Blake Carrington was dumped by his investor, ending with an overdue debt to be paid in a few hours… too bad he doesn't have that amount and has no qualms in asking his daughter to help him! Meanwhile, Alexis plots with Dominique, who has recently discovered that she has inherited the family mines, to send the man out of the Carrington mansion. Fallon is deeply disappointed by her parents and convinces Liam to run away and get married in the one place where she felt really happy in her life: her high school theater.
With Sam celebrating their union, Fallon singing a song she wrote instead of her wedding vows to Liam… In short, a marriage completely out of the ordinary, just like the two of them!
Speaking of couples, what about Sam and Ryan? Although the acquired Carrington wants to deny his feelings, between the two there is definitely more than just friendship. We look forward to seeing more about it, because as we know, couples born of a mistake turn out to be the best!
But drama does not end here!
Evan, Trixie, Fallon's historical friend who died right at the manor,'s psychopathic brother, is back in action, getting closer and closer to his target. As we will see, the boy wants to prevent the union of the heiress at all costs. After making a visit to the manor and stabbing poor Kirby, from which she found out where Fallon was. Once at the theater, the boy takes advantage of the fact that Fallon is alone to take her hostage with a knife… luckily Blake arrives in time to save her! In the attack, the two fall badly from the stage… Will they be alive or not? Will it be Blake in the coffin we saw at the beginning of the season?
Don't miss our reviews to Dynasty Season 4, Tuesdays on Survived The Shows!
Chiara
Please step by our Facebook page SurvivedtheShows too, to keep updated!