Now that we're in the fifth season of "This Is Us," the only thing Pearson-family fans can rely on more than the fact that they're sure to get at least one twist or turn when they tune in each week is that they are definitely going to shed at least one tear per episode. TheWrap has rounded up the show's biggest tearjerker moments — both good and bad — so far.
Jack's fate
First, the show dropped the bombshell that Jack has been gone for so long that Randall's kids consider someone else entirely their "grandpa." We shouldn't have been surprised to learn, then, that the Pearson family patriarch is actually dead, and had been since about 2006. Kate seems to have a hard time moving on from it, still maintaining a tradition of watching every Steelers game with her dad — even if it's just his ashes left now.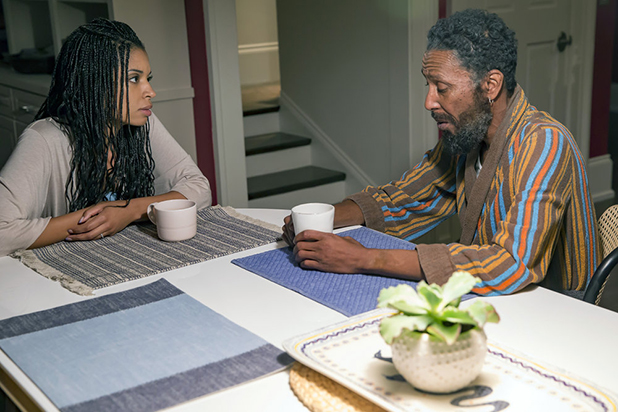 The truth about William
We knew William was dying pretty early on, but that didn't make him trustworthy. It took Beth gently chiding Randall about his inherent goodness and William's shady behavior to get the truth out on the table. William isn't still doing drugs, he's been disappearing for hours on end each day in order to take the bus to his house to feed his cat. "Well now I feel like a bitch," Beth quipped, and we wept.
Randall's trip down memory lane
Only on this show could a bad hallucinogenic mushroom take the characters and the audience on a gut-wrenching emotional journey. A vision of his dead father takes Randall down memory lane to reveal just how hard and lonely it must have been for his mother to keep such a secret to herself.
All of "Memphis"
William finally passes at the end of this heartbreaking episode, which centers around his road trip home to Memphis with Randall. The hour is spent going between flashbacks of his youth and the road he traveled to leave his mother and music career behind and get mixed up with drugs. Randall is with his biological father when he passes and the drive back home is both the most cathartic and heart-wrenching scene we've ever watched.  
Kate's miscarriage
This episode packed more of a punch than anyone was ready for, even though we found out at the end of the previous episode what was to come. Watching Kate lose her and Toby's baby in "Number Two" and the different ways they chose to grieve was truly a once in a lifetime TV experience. But it was definitely something we only wanna witness once.
Tess comes out to Kate — and later to Beth and Randall
In a very special episode on a This is us full of very special episodes, Tess gets her first period and confesses to her aunt that she has feelings for girls. Not longer after, she comes out to her parents and it's impossible to not weep over how beautiful the moment is.
The whole family waits to see if Kate and her premature baby are going to be OK
The things that come out in "The Waiting Room" episode. And then Kate and Toby name their baby Jack. Wow.
The first time we see Future Rebecca
And obviously begin to worry more about her clearly failing health.
The Big Three's big cabin trip
When it's revealed that Kate and Randall know about Rebecca's increasing memory problems and possible Alzheimer's — and Kevin doesn't. Poor Kev, always the last to know. The siblings do reconcile in a real tearjerker of a moment, when they open up a time capsule they buried with their parents when they were kids.
Randall's "what if?" therapy session
Randall imagines what life would have been like if he had saved Jack from dying by preventing him from going back into the fire. Randall explores these two different versions of his life — one rosier, one darker — during a therapy session that brings him to a revelation about how he never truly confronted Rebecca for her keeping that secret from him about William. By the end of the episode, he's called his mother and asked her to do one thing for him: go do the clinical trial. And she agrees.
Don't miss the new season of This is Us with its drama, emotions and plots Tuesdays on NBC!
Chiara
Please step by our Facebook page Survived The Shows too!