ABC has handed series orders to three shows for next season, including Not Dead Yet, a new comedy series starring Gina Rodriguez! Not Dead Yet will premiere on Wednedays February 8.
The series is based on Alexandra Potter's novel Confessions of a Fortysomething F–k-up.
About Rodriguez's character and the series's plot
Rodriguez will play Nell Stevens, who the potential series' official logline says is "broke, newly single and feeling old" and "a self-described 40-something disaster." When she decides to get back into the career she left a decade earlier, she takes the only job available to her: obituary writer. In this new role, "Nell starts getting life advice from an unlikely source."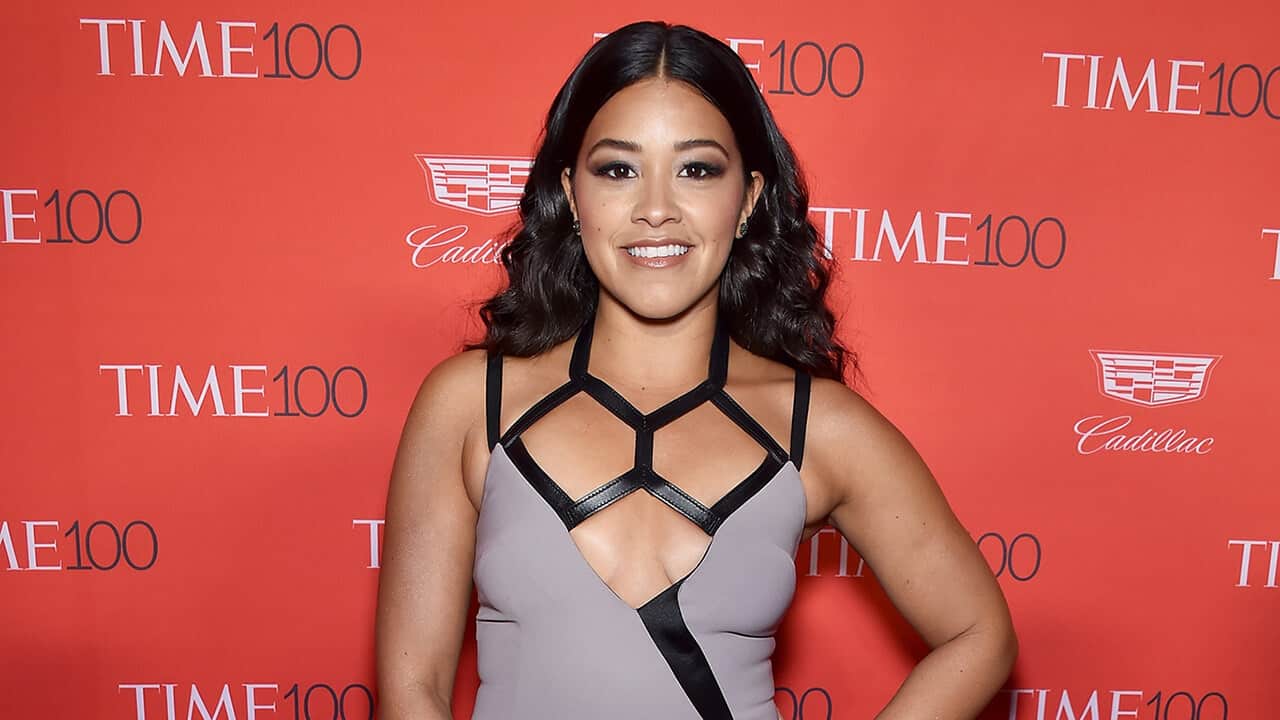 The series hails from Casey Jonson and David Windsor, who'll serve as writers and executive producers. Other EPs include McG, Mary Viola and Corey Marsh. 20th Television will produce the project.
Rodriguez is best known for playing the title role in The CW's Jane the Virgin. Her other TV gigs include Diary of a Future President, Big Mouth, Carmen Sandiego and Elena of Avalor.
In addition to Not Dead Yet, ABC currently has two other single-camera comedies in the pilot mix: The Son-in-Law (starring Orange Is the New Black's Reema Sampat and This Is Us' Chris Sullivan) and Josep (starring stand-up comedian Jo Koy and Broadway star Rory O'Malley).
Plot of "Not Dead Yet"
From creators David Windsor and Casey Johnson ("This Is Us," "The Real O'Neals") and starring Gina Rodriguez, "Not Dead Yet" follows Nell Serrano (Rodriguez), a broke and newly single self-described disaster, working to restart the life and career she left behind five years ago. When she lands the only job she can find – writing obituaries – Nell starts getting life advice from an unlikely source. The series is adapted from the book "Confessions of a 40-something F**k Up" by Alexandra Potter.
Cast of "Not Dead Yet"
"Not Dead Yet" stars Gina Rodriguez as Nell Serrano, Hannah Simone as Sam, Lauren Ash as Lexi, Rick Glassman as Edward, Joshua Banday as Dennis and Angela Gibbs as Cricket.
Jessica St. Clair ("Playing House," "Avenue 5"), Mary Elizabeth Ellis ("It's Always Sunny in Philadelphia," "Licorice Pizza") will also appear.
Characters of "Not Dead Yet"
Banday will play Dennis, Nell's old friend, former roommate and now current boss. Dennis used to be a nerd, but now is cool. He hired Nell because she is overqualified, desperate and introduced him to his husband. St. Clair will play Annabel, described as an earthy, beautiful yoga studio owner and mom friend of Fiona (Ellis). She is into mindfulness and healing but sometimes doesn't take her own centering advice. Nell's return makes her jealous, although she'd never admit it.
Simone will play Sam, who is a colleague of Rodriguez's Nell, is part of the retooling of the single-camera comedy. Now it's leaning more heavily into the workplace, with the female-friendship storyline from the pilot phased out. As a result, Jessica St. Clair and Mary Elizabeth Ellis, who played Nell's girlfriends Annabel and Fiona in the pilot, did not continue on the series.
Ash will play a new character, Lexi, the daughter of a wealthy newspaper owner and recently appointed editor. Lexi was raised in a rarefied world of boarding schools and private planes and is comedically out of touch with how normal people live. A former almost-Olympian horse jumper, Lexi exudes extreme confidence. But the truth is she's in way over her head and if the newspaper fails, she'll never win her father's approval – something she desperately wants.
Ellis plays Fiona…
Nell's BFF since childhood and into their partying 20's. Yin to each other's yang, Fiona always centered Nell while Nell brought out Fiona's fun side. Now that Nell's back, their lives are very different. Fiona has a seemingly perfect life with a husband and family that Nell envies. But Fiona's truth is she feels a little trapped in that life – something Nell can hopefully help shake up.
Gibbs will play Cricket,Nell's beautiful, free-spirited friend. Even though recently widowed, Cricket lives in the moment, enjoying the life that is happening right now. Cricket becomes newly single Nell's plus-one.
Glassman will play Edward. An uptight, smart environmental lawyer, Edward is Nell's landlord and roommate. A Stanford graduate, he is married and has a son who lives outside of the city. He spends weekends with them, but during the week is a thorn in Nell's side due to his inflexible house rules and commitment to recycling and the environment. But there is something sweet underneath Edward's slightly superior exterior and he and Nell will come to realize they're more alike than they thought.
Synopsis
Not Dead Yet: Pilot (2/8)
"Pilot" – Nell attempts to restart her life in a new place with a new job and a new roommate. She begins writing obituaries at the local paper and starts getting life advice from an unlikely source on "Not Dead Yet," WEDNESDAY, FEB. 8 (8:30-9:00 p.m. EST), on ABC. (TV-14, DL) Watch episodes on demand and on Hulu the day following their premieres.
Not Dead Yet: Not a Tiger Yet (2/8)
"Not a Tiger Yet" – As Nell tries to settle into her new job, she gets increasingly annoyed by her latest ghost. Meanwhile, Edward works on a project that sparks Nell's journalistic curiosity on "Not Dead Yet," WEDNESDAY, FEB. 8 (9:30-10:00 p.m. EST), on ABC. (TV-14) Watch episodes on demand and on Hulu the day following their premieres.
Casey Johnson and David Windsor are writing and executive producing "Not Dead Yet." McG, Mary Viola, and Corey Marsh also executive produce via Wonderland Sound and Vision. 20th Television is the studio.
"It's all the things, all at once. And I'm just trying to let go," Gina Rodriguez tells while promoting her new ABC series Not Dead Yet
"That's what life is," the 38-year-old actress — who's pulling double duty as a star and executive producer on the ABC comedy. "It's everything, everywhere, all at once, right? I love that movie, but also the title is just so apropos to life itself."
"It's all the things. It's all the things, all at once. And I'm just trying to let go," she continues. "At some times, successfully letting go. At other times, gripping too hard."
"When you sit in it, it feels like you're alive. I enjoy that feeling."
Rodriguez says that it's been "a phenomenal experience making this television show, but also pretty monumental in my existence."
"I really love playing this character that is flawed but trying so hard and wanting so badly to fix or to feel better or to just be happy after this," she explains. "You'll end up seeing over the course of the series why — what she went through, what sent her off on this new journey. I really just love that."
"Not Dead Yet" it's about self-reflection, and it's about growth, and it's about friendship, and it's about the power of self-healing. Viewers will be put through a mix of emotions."
"It makes you laugh, and it makes you cry. Everybody is on their own experience, but they're all trying to help each other," she continues. "I just think right now, I want to watch this kind of television that helps me escape, but at the same time helps me reflect in a way that's going to make me excited by the end of it. It's going to keep me hopeful. I've just been in that space, for years now, to be honest."
Gina Rodriguez Reveals How Her Baby Bump Was Hidden on 'Not Dead Yet' After Unplanned Pregnancy
The actress shared how they were able to pull off hiding her growing bump during the duration of the shoot, crediting the producers and directors for coming up with unique ways to pull it off.
"It's my first time experiencing this, doing this [while pregnant] and the [producers] have been so loving and supportive of me accidentally getting pregnant right before the show started — out of love, obviously," she quipped. "My husband, we're very excited about it, but it obviously wasn't planned. But it was, he planned it."
"[Director] Dean [Holland] was always there to make me feel very comfortable about the experience because it was never new. He and the other directors came up with very creative ways to either cover the belly, whether it was costumes or in my cubicle or a plant or a refrigerator," Rodriguez continued. "But the greatest thing, and I'll never forget it, because I thought at each stage, 'Oh my god, I'm so big, I can't imagine hiding it. How are we going to hide it?' Now I look back at that baby bump and I'm like, 'That was nothing. That was nothing.' I was so afraid."
She shared advice Holland gave her as she began both her pregnancy journey and the Not Dead Yet journey
"You're pregnant. You're a miracle. Just live in it and we'll figure it out and they did. They figured it out. My co-stars helped figure it out and the crew helped figure it out. It was a very loving, protective set. But they would always continue to protect me and it was really magic."
"Nell is just so real," Johnson emphasizes. "She feels like she's falling behind and not living up to everyone's expectations."
"I really hope people embrace what we're trying to do in letting those emotional moments just be emotional and not feeling like we had to cut it out with comedy," Windsor says of the series, which allows for fun new guest stars each episode — look for Rhea Perlman and Brittany Snow in the weeks ahead.
Promotional pictures
Gina Rodriguez Says It's 'So Much Easier' Relating to Her Not Dead Yet Character Than Jane the Virgin
Though surrounded by supernatural forces that can't quite be explained, Nell's character is relatable. At ABC's Television Critics Association winter press tour on Jan. 11, Rodriguez spoke about why she relates more to Nell than to her iconic role of Jane Villanueva in Jane the Virgin. 
"I got very lucky to play such a kind, loving, always good and did-the-right-thing and was honest [character] and that really helped me in my real life," Rodriguez said of Jane. But she did not always feel similar to her character. "All the beautiful viewers of Jane were so loving and treated me like I was Jane, and I was like, I am working and failing." 
Playing the obituary writer has been a different experience. In Not Dead Yet, which premieres Feb. 8 on ABC and is based on Alexandra Potter's Confessions of a 40-something F**k Up, Nell thinks of herself as a disaster.
"To play a character like Nell who is flawed and learning and makes mistakes," Rodriguez said, "Just to have someone that is in her 30s thinking that she got it together and then it all kind of falls apart to me is just so much easier to connect to."  
Not Dead Yet' Reveals Ghostly Guest Stars: Ed Begley Jr., Rhea Pearlman, Brittany Snow & More
The series, which follows an obituary writer that sees dead people, will have some star-studded ghosts as guests alongside the previously announced Martin Mull, including Ed Begley Jr., Mo Collins, Deborah S. Craig, Telma Hopkins, Don Lake, Rhea Perlman, Paula Pell, Tony Plana, Brittany Snow, and Julia Sweeney. Additional guest stars are expected to be announced at a later date.
"That resonated with me so hard right from the beginning. I was like if that were me…," Ash said
Simone admitted that she'd question the friendship, as Nell does on the show. "These are the growing moments that happen on this show, which is, 'well, Lexi has changed and grown and been good to me, and you need to give her another chance, just like you're asking for another chance,'" she shared. "There are moments of maturity that we have to embrace."
Added Ash, "and there are moments where that's a bit of a struggle, and I think that's so realistic."
We do hear quite a bit about Sam and Lexi becoming friends, though we won't necessarily see flashbacks of that happening, at least not this season. "You see more of the shorthand that has built over time," Ash explained. "The smart thing is, it makes sense. You lost your best friend, and she moved very far away, and then it kind of is one of those things where it's like, where do we spend most of our time? At work. Your coworkers are going to become your friends."
What also bonded them was that they got through the pandemic together and are mom friends. "They really held each other down. They were two moms that were together," according to Simone. We'll see "some really beautiful things in the give and take of the friendship."
To their surprise, Ash and Simone didn't know each other before working on Not Dead Yet. "It was very strange we had never crossed paths, but it felt like it was because we were destined to meet doing this," Ash said.
Lauren Ash Peels Back the Layers on Her New 'Pretty Part'
"I got the new blond hair and I bought myself a nice purse and look what happened," Ash said about landing Not Dead Yet. "I keep calling it 'a pretty part' which is kind of diminishing of the level of layers to the character. But I was really excited to get to do something different. I mean I was in those khaki pants for almost six years. It was great to get to do something so polar opposite. It's been so fun getting to play someone who is high status, who is a jerk at times, who is also very complicated and has lots of conflicting emotions about why she is the way the way she is."
What was the audition process like for this role?
Lauren Ash: The offer was pending a chemistry read which was so funny because chemistry reads were being done over Zoom at the time. I did a chemistry read with Gina over Zoom and it went so well. I literally had all my manifesting crystals around the laptop and then I found out afterward that she's also a crystal gal and it was just meant to be. 
Lexi seems so confident but she has a surprisingly vulnerable moment at the end of the pilot when she's on the phone with her dad.
Ash: I think the most interesting characters arcs are the ones that have layers and that was something in the pilot script that really interested me because by the end she has that moment on the phone where her dad hangs up on her. Hurt people hurt people. All those kinds of themes are so prevalent in this character and it really made it more interesting to me than something that is just one note, one joke. I was always saying that on Superstore. Let's remember that Dina is three dimensional. We all have how we present ourselves publicly and then who we really are and what are the things that happened to us that made us the way that we are.
How else do you connect to Lexi?
Ash: While I did not grow up in opulence like she did so that's not something I can relate to, I definitely can relate to the dynamics you experience in life behind the scenes and how they can shape who you are. For me it's really tapping into that vulnerability and going to a feeling place. Everyone I think has the feeling of not belonging or not fitting it or wanting someone to love really bad who doesn't love you in the way you need to be loved. It became a really fun acting challenge when I had those moments to really find where that line was that still felt authentic to who she was and that's exciting.
Obviously the newspaper business is in quite a bit of flux right now. Did you do any research into the current state of things?
Ash: I didn't because Lexi wouldn't have. She was coming into that job really having no knowledge of the industry, no knowledge of how it works, no real knowledge of what her position is and I was like I want to come in as blindly as she did. But then as she learns, I learn type thing. You see her at the end of the pilot talking to her dad, you see her scrambling. She doesn't have a plan. She doesn't know what she's doing at all. She's been given no guidance. She's been set up to fail arguably. I thought it would be really fun to come in as blind as she does to what it is that she's up against. Then, as the season goes on, we definitely see more of what that will mean. 
Can you tease a little bit about what the rest of the first season holds for Lexi?
Ash: There is a dynamic going on in that family and with her dad that is obviously going to be a challenge and an added layer to everything she's doing and then you really kind of see why there's stakes for her. Because on paper you go well she has all this money, why would she care to even do that job? There's little sign posts along the way where you see the reasons why and it's not about the job. It's about her relationship with her father.
It was a really great color to have and to get to play. Because that informs so much about the thing that she isn't saying in other scenes but are obviously right at the surface for her the whole time and what kind of motivates her in moments of desperation, in moments of  tenacity, in moments of failure. It's great to have that in you actor bucket to pull out. I think that's universal. As humans we are looking for an understanding and ultimately some level of validation and approval.
With her story and what you start to learn about what her childhood kind of looked like and what the realities are and how she grew up it just starts to make more and more sense that she is the way that she is and that she leads the way that she leads because it's tied to her childhood.  Therapist make a lot of money for a reason. If I could give her any advice, it would be just try seeing somebody maybe just once.
Promo
Are you excited to see Gina Rodriguez in "Not Dead Yet"?
Keep following us for more news!
Aurora
Source: TVLine / ET Online / Spoiler TV
Please step by our Facebook page SurvivedtheShows, Instagram page @survivedtheshows and Twitter page @SurvivedShows to keep yourself updated!