Brilliant and determined, yet down-to-earth and easy-going, Anuja Joshi was honored to play Leela Devi in the FOX medical drama The Resident. A bright young resident who suffers from a condition that is more common than it seems, dyslexia, and yet manages to make her way through a tough environment like the medical one and turn it into her strength.
"I think it's extremely rare to see such representation in a mainstream Hollywood show," Anuja shares. "But also the fact that I'm an Indian-American woman, a woman of colour, in a successful Hollywood show, I think is definitely major."
This was the first element for the actress to feel honoured by the task she was given. Then, little by little, also with the help of the writers and directors, she was able to understand and love the character more deeply. In her being a great woman, intelligent, independent and strong "who doesn't need to rely on anyone to make her way in life", adds Joshi.
Introduced into the story in the middle of season 4 of The Resident, Leela Devi has slowly won over the audience with her resourcefulness and determination, as well as great humanity at the same time.
Anuja will never forget how scared she was to be part of such a beloved series and how she hoped her character would live up to the hype and win the hearts of the audience. For this she can only thank the showrunners and directors who have helped her so much and guided her in order to give Leela the right inclination to allow people to see themselves in her in some way.
Approaching a character as nuanced and complex as Leela required a lot of work in order not to be superficial in her portrayal.
Joshi tells us how, with the help of people at her network and showrunners, she was able to document herself on Leela's disorder and understand how it affects her, in order to use it not as a weakness but as a strength.
"One of the most amazing episodes I had the privilege to play in season four was when a tornado hits the Chastain. I think that was the first time the audience got to see how dyslexia can be such a source of strength. People are able to think in a creative way, which maybe other people wouldn't be able to do in terms of problem solving. That was a big part of my initial research for the character."

Anuja Joshi
Another element that Anuja adores is the fact that, although our origins help shape our cultural outlook, they are not central to Leela's identity – "She's a doctor, first and foremost, not an Indian doctor," Joshi points out. "She's a smart, strong girl who also happens to be Indian, and that's a major […] and I think that's really great."
Of all the challenges the role of Leela Devi has given her, approaching medical dialogues has been the biggest.
How can we not understand Anuja when she explains how difficult it was for her to learn the lines of dialogue between doctors, with all those names of specific diseases, symptoms and treatments. Because not only do you have to understand what they are about and learn the various terminologies, but you also have to recite them with intention, Joshi explains, and that's where the beauty of working in a medical drama comes in.
The actress will be extremely grateful to their medical advisor, Sunshine Bartell-Gbur, who plays a key role in guiding the actors in their approach to medical reality. Not to mention that The Resident, unlike other series, manages to provide viewers with a perspective that goes beyond individual cases and the hospital, but manages to give an overview of the American medical system as a whole, which is why accuracy is even more important.
In addition to this, the actress emphasises how beautiful and important it is also to show doctors in their humanity, and not only within the working environment – because in the end they are real human beings.
In this sense, Anuja Joshi can't help but feel honoured at the idea of portraying a character who is a hero in our time, given the recent pandemic and beyond, and moreover, she's a dictor suffering from dyslexia, who brings forward a message of positivity towards disabilities.
Where are Anuja Joshi and Leela Devi most similar and where are they completely different?
Undoubtedly, determination is a factor they share. When Leela wants to excel at something, she doesn't rest until she becomes the best at it, and Anuja recognises some of this character trait in herself.
"When I have a goal, it's very difficult for me to think about something else, or I'm very regimented when I set my mind to something. And I think Leela has the same trait. For example, last season, when she's told that she wasn't very good at tying surgical knots, in the episode you see her spending hours tying knots until she becomes the best at it. And that diligence – I think that's part of the way I was raised."

Anuja Joshi on what sees of herself in Leela Devi
In terms of differences, Leela has more difficulty than Anuja in setting boundaries and balancing her personal and work life. She concentrates as hard as she can to achieve her goal, she explains, partly because she has to work twice as hard as others because of her learning disability. This undoubtedly affects her relationships with her parents, as we saw in season 5, with her boyfriend or with her sister. While Joshi manages to balance it all better despite the actors' crazy work schedules and numerous travels.
In these final episodes of The Resident Season 5, we find Leela in a rather tough situation
We're now in the final acts of this season of The Resident and as we've seen, Leela Devi is in quite a difficult situation personally and as a woman, as her sister Padma wants to have a baby but can't. She asks Leela to donate some of her eggs to her, but this causes the young resident an inner conflict about her future and her family that leads her to consider freezing her eggs. At this point she asks Leela to donate some of her eggs, but this generates an inner conflict in the young resident about her future and her family that leads her to consider freezing her eggs and using them in the future when she feels ready to become a mother.
"In these final episodes, as we head into the season finale, we will see Leela contemplate what she really wants in her life. Something more than her career, which is at its peak at the moment," explains Anuja Joshi. "We'll see her look at her life in a broader sense and ask herself 'what do I want outside of this amazing career?', 'How can I prioritise my personal life?', 'Where do I see my future going?'"
This was all great for Joshi to interpret, as these inner conflicts and reflections are very common in women. We all come at some point in time where maybe your career is going great and you're just focusing on that, or your personal life is lacking.
In order to best portray this narrative arc with the theme of fertility and motherhood at its centre, Anuja says she did a lot of research, including through acquaintances and close family members who have experienced the same difficulty and considered freezing their eggs, or using alternative methods to become parents.
"I know many people who have gone through this [freezing their own eggs]. I know a lot of people who have had immediate success, but also people who have had great difficulty. It is heartbreaking when it doesn't work. I feel for all those women who are having a hard time in their fertility so much. I think there's a lot of toxic positivity around this. Like 'giving birth is natural, it's a woman's duty'. There's a lot of toxic nerds talking about this and I think in all, as a medical community, it's important to be very sensitive about this and also with women who don't want to have children – it's all about what you want in life."

Anuja Joshi on the topic of fertility on The Resident
The Resident fans also got a bit fo shock this season when Aneesha, Anuja's real-life twin sister, pops up playing Padma, Leela's twin sister. Working with her was really fun for Anuja!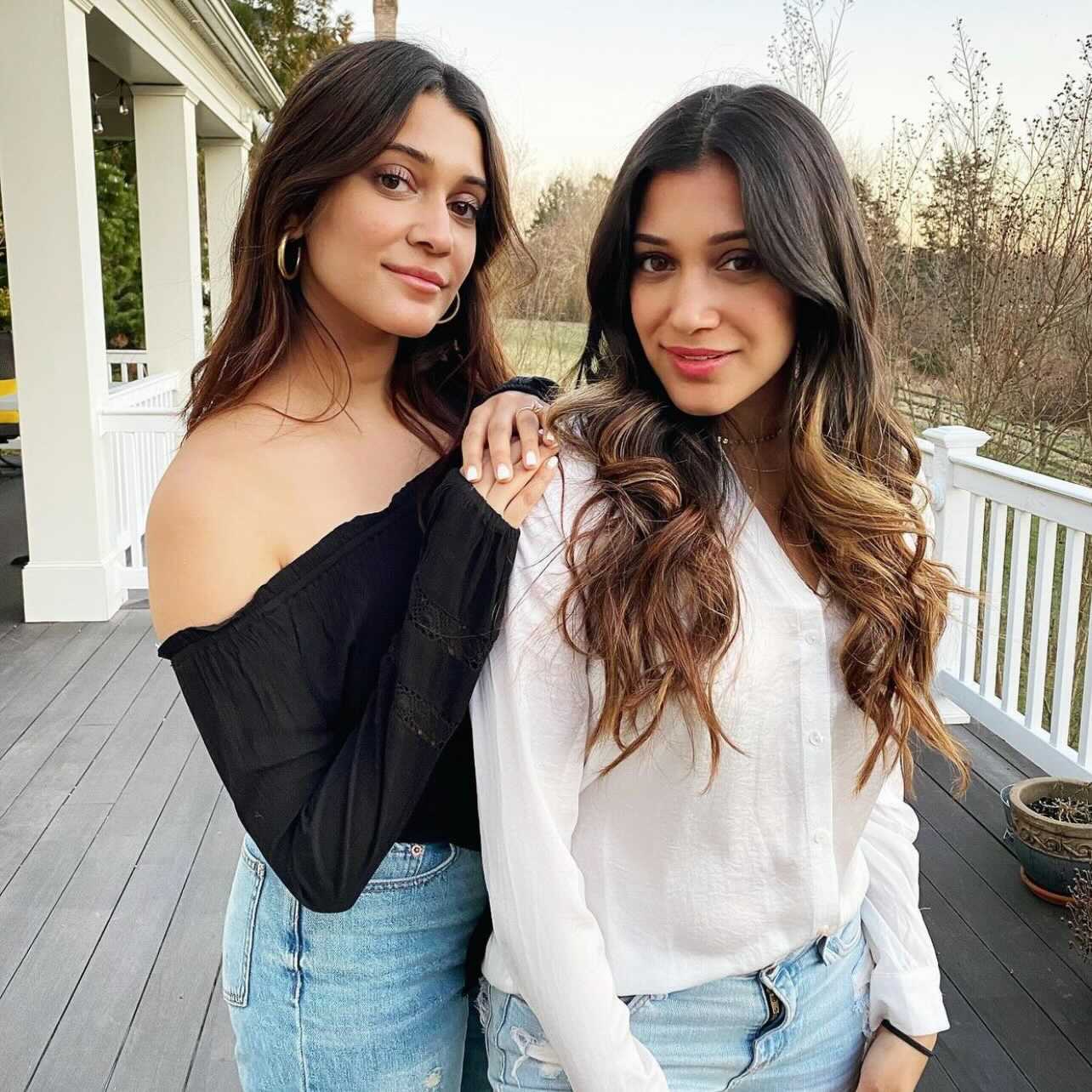 The actress emphasises how fun and wonderful it was for her to act alongside her twin sister, Aneesha. "We work very well together on set. We manage to give each other space when we need it," says Anuja. "It's like working with my best friend."
This is a real honour and privilege for her, and she can only thank the writers for giving her the opportunity to have her sister on stage alongside her.
In fact, she says, some crew members thought she would play both roles of the twins, not knowing that she had a sister in real life.
Anuja Joshi describes the set of The Resident as an inspiring place to work on.
As Anuja points out, The Resident has one of the best teams around – full of respectful, patient and hardworking people, both actors, production and crew members, working with whom is just an honor.
"It's really a privilege [to work with a respectful and patient team], because it's not always the case as a lot of people know. And the set itself is so impressive […] the first day I walked on, I was just a fan of the show and I was so taken aback with how realistic everything looks […] There's so much attention to detail with the design and you see it on the show, but being there in person is something else entirely!"

Anuja Joshi on the environment on set of The Resident
This season we also saw Leela coming closer to Billie Sutton, first in terms of mentorship and then also friendship and that's one of Anuja's favourite storylines!
Building this realtionship between Billie and Leela with Jessica Lucas was an absolute pleasure for Anuja Joshi. Billie is "actually killing it at the hospital, she's at the top top of her game" as Joshi says and Leela really looks up to her both as a doctor but also as a woman.
"I love doing scene work with Jessica [Lucas]. She's a fantastic actress. I just love what she does. When I watch her performance back, I am always really moved and she's so humble about it"

Anuja Joshi on working with Jessica Lucas
Working alongside Jessica [Lucas] and Manish Dayal who respectively play Billie and Devon, Leela's boyfriends, is very easy for Anuja.
"At this point they're probably my closest friends" she says. "They're amazing people, both of them. They're fantastic actors, I look up to them a lot professionally. And they're really good people, so having that comfort on screen is very easy and they make my job really easy by being so great."
If she had to choose a character on The Resident, apart from Leela, that she feels closest to as Anuja, which one would it be?
Anuja feels very close to the character of nurse Jessica, who knows very well when to speak her mind but at the same time is very calm and reliable. Not to mention how sweet and friendly she is, and Joshi likes to think of herself as such in life.
"I like Nurse Jessica as a character. I really connected to her when I watched the show, just as an audience member […] and I like her relationship with Bell. I feel like, even with me and Bruce [Greenwood], the actor who plays Dr. Bell, there's a lot of that relationship. They're kind of mentoring, kind, you know, and if I'm having a bad day I can also go and talk to him – he's a good friend".

Anuja Joshi on the character she feels closest to herself on The Resident
What was a particularly fun and a particularly difficult scene to shoot in The Resident?
The most fun scene for Anuja to shoot was undoubtedly the one where she plays darts. Being terribly bad at this game, hitting the target three times in a row proved to be extremely difficult… and the result was as much fun. Thankfully, there is cinematic magic to save the day, editing the movement and making it look like the target had been hit in full.
"The first three times I did it I didn't even hit the dartboard, but first I hit the walls, then I hit the floor […] The other actors had to be like 'woahh' and pretend like I did. And we were cracking up – and they were like 'you're really bad at it'. I remember we laughed a lot that day and when I watched it afterwards I was quite shocked at how good they made me look."

Anuja Joshi on the most fun scene to shoot on The Resident
Speaking of difficult scenes to shoot, Joshi explains how it was terribly emotional to shoot the episode where Nic (Emily VanCamp) has the accident and loses her life as a result, because they had to give justice to a much-loved character from the show, so the pressure was on.
In addition to that, the storyline of Devon's (Manish Dayal) illness was very intense to shoot. There Leela has to come to terms with her boyfriend suffering and so she would like to give him love and care, but at the same time she is a doctor; therefore, she can't afford to break down and let her emotions get the better of her.
Throwing back to her past experiences in acting, which is the role Anuja is most fond of and which has helped her grown the most?
An experience that she will never forget, both personally and professionally, is undoubtedly the miniseries shot in India, entitled Hello Mini. The actress tells us how they shot the first season in 2019 and then during lockdown they shot the following two seasons with the entire cast and crew living in the same hotel, in a sort of covid-free bubble.
"It was incredibly exhausting. Also a bit scary, because no one was vaccinated, the numbers were really high and I was literally in almost every scene. We were tested pretty often and it was mostly a high-octane show – it was a thriller – so it was a lot emotionally as well. I'm very stressed in the show, I'm crying, screaming, running. Physically, it was very taxing".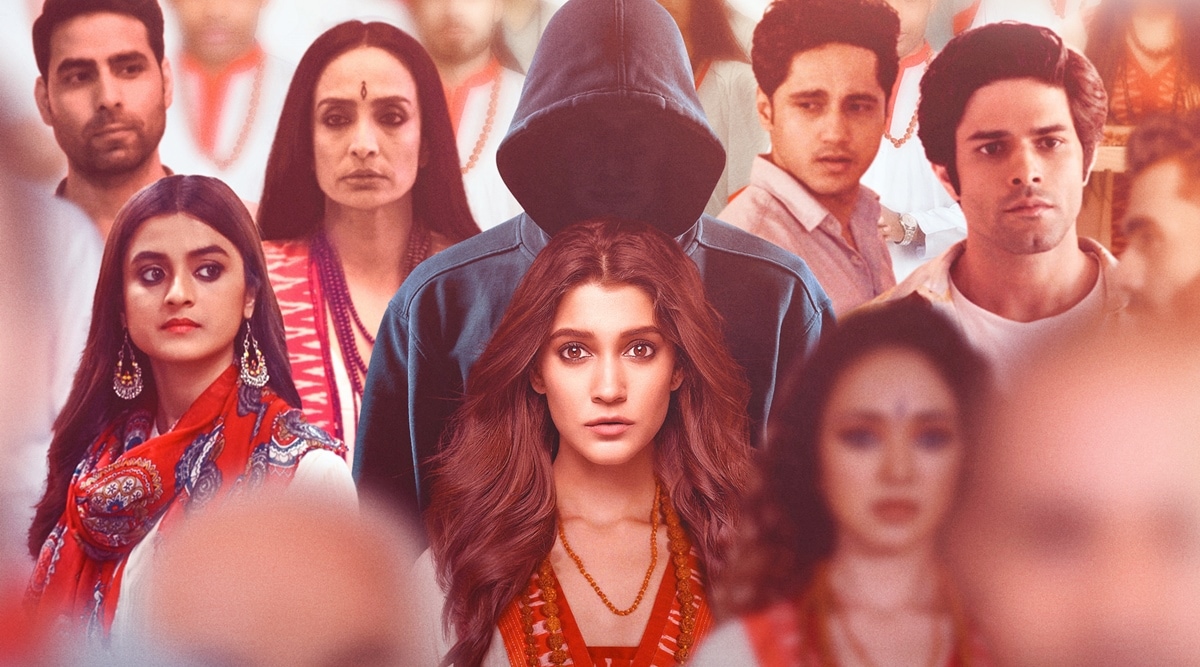 And then there was the audience's expectations. Season 1, says Anuja, got a great success in India and as a result she felt a lot of pressure to do an equally good job in season 2 and 3.
"I think that show was literally my training camp to learn how to survive long days on set. And over time I got good at it, kind of like morning workout routine, the more you do it the stronger you get. This has been the hardest and most rewarding thing I've done".

Anuja Joshi about working on Hello Mini
Talking instead about the role she is most attached to, Joshi recalls another series she worked on in India, titled Broken but Beautiful, season two. In that series, she played Debbie, a character that Anuja adores and loved playing. Very funny, a typical comedy character. Her favourite character to play, apart from Leela.
Grown up in a family full of artists, Anuja Joshi cultivated her passion for performing from a very young age.
Acting, or performing arts more in general, has always been part of her reality, Anuja recalls. Her father was a child star, her grandmother a classical musician and her aunt is still currently an actress in India. The combination of dance, singing and acting led her into musical theatre for some years and it was then that she realised she deeply loved it all, performing in the broadest sense of the word. Over the years, this passion keept growing until she decided to start performing professionally at college and she joined Community Theatre.
"It all happened kind of naturally, but I have always been on stage. I was always performing as a child. I didn't like sports, I didn't like anything else. I wasn't good at anything else neither, I just liked performing."

Anuja Joshi about how her passion for acting started
What advice would Anuja Joshi give to those among our readers who would like to pursue an acting career?
Number one advice, on which several actors and performers agreed with Anuja, is that you really have to be passionate about this job. Otherwise, it wouldn't be much worth-it, considering how tough and full of sacrifices this world and life is. So, if you're passionate about something else, more than you do about acting, you should go for that something else. Anuja Joshi's word.
"You will suffer a lot. You will be rejected many times. It's not easy for everybody, for some people it might take years to get there. […] You will come really close to some things and your hopes will be sky high and you have to be prepared […] I think it can be really difficult at times. […] If you're really passionate about something you have to go after it, 100 per cent, you have to go after your dreams. But in the end, if you realise that you don't have that much passion for it, then it's not really worth it."

Anuja Joshi
In terms of sacrifices, she gives us an example of what she experienced herself in real life. The Resident gave her this incredible opportunity, but she had to move to America, whereas her fiancé has an established acting career in India. So she has had to manage her relationship almost on a distance and deal with how unstable this job is, and how it might take you to the ends of the earth.
Don't miss a new episode of The Resident, airing Tuesdays on FOX!
Keep following us for more news on the world of The Resident!!!
Chiara
Please step by our Facebook page SurvivedtheShows, Instagram page @survivedtheshows and Twitter page @SurvivedShows to keep yourself updated!