Lily Collins, protagonist of the Netflix series Emily In Paris, shared some BTS photos of the filming of the second season featuring her both on-and-off screen friend Ashley Park!
The two photos portray Collins with her colleague and friend – both in the series and in reality – Ashley Park. The two pose in front of the Eiffel Tower in their stage clothes. A stolen pic during filming of season 2 of the series, coming on December, 22 on Netflix, as written by the actrss in the caption. "Queens of hearts. BTS Season 2 @emilyinparis… coming December 22!!…"
Both Lily Collins and costar Park have a folder featured on their Instagram profile, with content about the series and behind the scenes!
About Emily In Paris 2…
During an interview, the 32-year-old actress spoke about the work done in season 2, particularly in response to criticism of the first season.
For me as Emily, but also as a producer on [the show], after season one, hearing people's thoughts, concerns, questions, likes, dislikes, just feelings about it, there were certain things that spoke to the time that we're living in and what's right, and moral and correct and should be done. And [that was] something that I felt passionate about. [The producers] all believed in the same things.

Lily Collins
The main criticisms concerned the clichés and stereotypes with which French citizens were portrayed.
I really wanted diversity and inclusion in front of and behind the camera to be something that we really put our focus on, in a lot of ways. Hiring new people in front of the camera, also giving new storylines to different characters, which was really important.

Lily Collins
Emily in Paris' Lily Collins and Ashley revealed that they're best friends on-and-off set in an interview with Glamour UK. See what they had to say here!
It's no secret that Emily in Paris' Emily and Mindy are one of TV's cutest and funniest friend duos. But in an interview with Glamour UK, Lily Collins (Emily) and Ashley Park (Mindy) revealed that they they're not just on-screen besties who order croissants with a side of condoms—they're BFFs in real life too.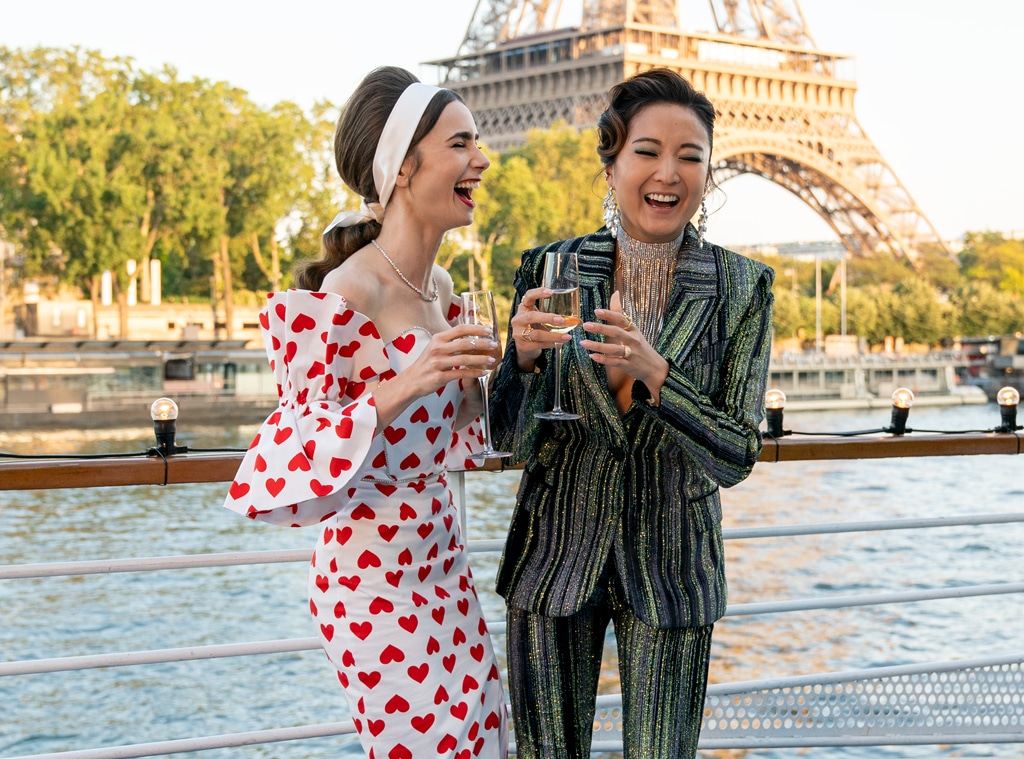 "It's such an amazing experience to meet someone as an adult, when you're an adult, and gravitate towards them so strongly. Like a friendship soulmate. Ashley makes me not question and doubt who I am now."

Lily Collins on Ashley Park
Ashley shared that when they had days off, the pair would explore Paris together. 
"Me and Lily, if we ever had a day off, we'd wander the streets together. We were sitting in the Tuileries Gardens, just catching up on everything – and we had masks and sunglasses on – and we just kept on getting recognized! Even what we thought the demographic of our show was. We were so happy that they were so enthusiastic about it, but also just middle-aged men came up and were like, 'Oh, it's you guys.' Not a single person came up to us with a negative response."

Ashley Park on Lily Collins
Ashley Park revealed she's "Team Emily" on the show!
During an interview with EOnline, Collins said that shooting the scenes with Camille and Ashley was so much fun! Park revealed she's Team Emily!
I'm Team Emily! I want her to do what's gonna make her happy!

Ashley Park
Lily Collins revealed what her favorite fashion moment from season 2 was!
It's so hard because Emily is obsessed with fashion! I love this outfit I wore for my birthday party which was this little mini dress with a big pink bow, because I felt Emily thought it was a bit of a present to herself.
Keep following us for more news about Emily In Paris!
Aurora
Please step by our Facebook Survived The Shows, Instagram @survivedtheshows and Twitter @SurvivedShows accounts too!