When it was first revealed on Sept. 9, 2020, that The Walking Dead was ending and there would be this new series, it was announced as a Daryl and Carol spin-off starring both Norman Reedus and Melissa McBride. A few time later, it was announced Melissa McBride will no longer be involved in the series' spinoff centered on Daryl and Carol. Instead, the new series will focus on Daryl and it's titled Daryl Dixon.
Let's take a look at everything we know so far!
Reedus revealed a bit more about the new show and its "different tone"
"It's very different," Norman exclusively told E! News. "It's different in tone. It's different in photography style. It sounds different. I'm shooting in castles and stuff."
"The light in France is different than the light in America," Norman explained. "The tone, the way people work is different over there. It's a very singular vision. It's a tunnel vision story, and things are happening right away. With The Walking Dead, there will be 15 cameras and 15 angles of me walking across the street. There, it's simplified."
"Everyone is freaking out, because it's really good," he said. "It's much different. It kind of takes the crazy away, and it's an adult story, if that makes sense."
One central difference between the spin-off and the original series will be the location
Daryl Dixon is set in Europe, but Reedus promised the series will feature even more changes.
"I've been going on location scouts here and stuff, but it's even more than just location," he shared. "It's all the things we love about those characters and those shows, but it's going to be brand new, which I'm excited about."
During an appearance on Jimmy Kimmel Live last month, Reedus confirmed his character arrives in Paris: "Somehow I get put there, and I don't go there on my own free will."
Now we know why he's there! In the finale, Maggie sends Daryl on a discovery mission to France, which is where the spin-off will take place.
First look photos at The Walking Dead Daryl Dixon spinoff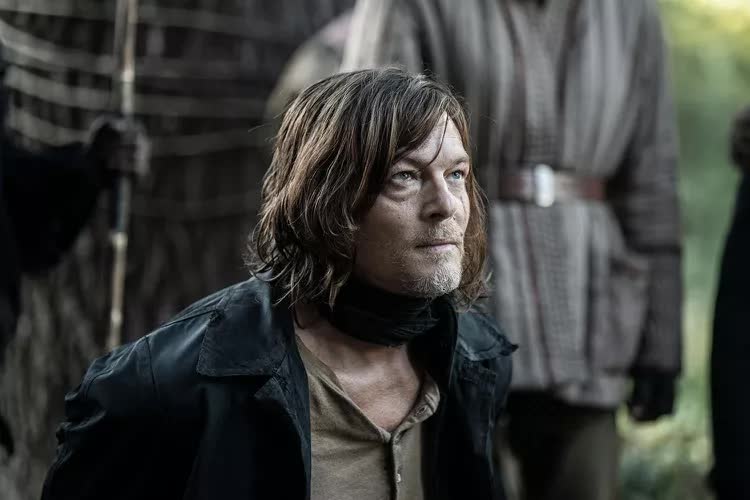 Initial buzz suggested the decision of not having McBride in the spinoff was a creative one, although an AMC rep confirms it was about logistics
"Melissa McBride has given life to one of the most interesting, real, human and popular characters in The Walking Dead Universe," a network spokesperson said in a statement. "Unfortunately, she is no longer able to participate in the previously announced spinoff focused on the Daryl Dixon and Carol Peletier characters, which will be set and filmed in Europe this summer and premiere next year. Relocating to Europe became logistically untenable for Melissa at this time. We know fans will be disappointed by this news, but The Walking Dead Universe continues to grow and expand in interesting ways and we very much hope to see Carol again in the near future."
Announced in September 2020, the project was to revolve around the badass BFFs played by Reedus and McBride. Walking Dead-verse chief content officer Scott M. Gimple and Walking Dead showrunner Angela Kang are co-creating the series.
This doesn't mean viewers will never see Carol in the spinoff. Maybe, fans will see her in the future: what's sure is McBride won't be in the first season of the Walking Dead spinoff.
Walking Dead star Jeffrey Dean Morgan is coming to the defense of co-star Norman Reedus following Melissa McBride's departure from the in-the-works Carol-Daryl spinoff.
As a vocal contingent of fans continue to take their anger over Melissa McBride 's exit out on Reedus, Jeffrey Dean Morgan took to social media Friday morning to lambaste the "toxic" reaction.
"Some of you have gone way too far," Morgan shared on Twitter. "Attacking Norm for crap he has nothing to do with? Melissa made a call that was hers alone. She wants/needs a break. Respect that. Factors involved that are nobody's business. Norm, who's given more than anyone to you all. Just sh—y."
Norman Reedus is opening up about his longtime The Walking Dead co-star Melissa McBride's decision to exit the upcoming planned spinoff, in which she was to star along with Reedus.
Appearing Monday on The Tonight Show Starring Jimmy Fallon, Reedus said McBride is taking a much needed break. "Twelve years is a grueling schedule and she wanted to take some time off, so she's doing that. She deserves it," said the actor.
Reedus also hinted he doesn't feel it's the end for McBride's "Carol" character.
"I imagine those characters are gonna meet back up at some point and I might even meet up with some other characters down the road," he said. "But she's taking time off and in the meantime, they were like, 'Hey, you wanna go on a mission?' And I'm like, 'Yeah! Let's go on a mission.'"
It seems we'll see Carol again!
It would now appear that McBride would like to see Carol again in the near future as well. EW spoke to the actress as part of our upcoming Walking Dead Fall TV Preview cover story, and when asked about the possibility of more Peletier, a sly smile crosses McBride's face. "I feel like Carol has more story to tell," she responds before pausing. "I'll leave it at that." Another pause. "I think she's got some more story." Another sly grin.
Norman Reedus shared the same thing, assuring fans they will see Carol again for sure. "Their journey's not over," Reedus tells EW. "They will meet down the road. You can pretty much bet all your money. I read all these people whining about it, and I have to just keep my mouth shut, but there will be a lot of foots in a lot of mouths at some point."
Even Walking Dead chief content officer Scott M. Gimple has some hopeful news. "I mean, they both put it right," says Gimple. "There's just more story to tell. And I love both characters so much that we will be telling stories with each of them moving forward. And who knows beyond that? But I've never stopped talking to Melissa about this. I'm thrilled at the idea of it and I'm very optimistic for the future of telling some cool Carol stories."
Norman Reedus further hints at Melissa McBride's return to the Walking Dead spinoff
Reedus says there's still plenty of reason for optimism that McBride will appear – even if it is further down the road than fans hoped.
"You don't know she's not going to show up on the spinoff," he told Variety Sept. 23. "I'll just leave it at that. She's a very big part of Daryl's story. It's all gonna be OK."
"The spinoff was announced before we even announced The Walking Dead was ending," he said. "We always thought we were doing a show that would come back to the flagship show—we'd take off, then come back to the flagship show."
Reedus further detailed that once it was announced that The Walking Dead would end after season 11, they "shot for a year and a half straight, through the beginning of COVID" and McBride simply needed some time off.
"I guarantee that you'll see those two characters together again at some point," he promised.
Norman Reedus says his Walking Dead spin-off will be 'f—ing epic'
Norman Reedus is already over in France for production on his own Daryl Dixon spin-off that is not only a follow-up to The Walking Dead but is also connected somehow to the mid-credits scene from The Walking Dead: World Beyond finale, in which a scientist in an abandoned French lab was shot after watching videos from Dr. Edwin Jenner (from season 1 of the original series) about tests being done on variant walkers.
AMC president Dan McDermott says the spin-off will "follow Daryl as he wakes up and finds himself somewhere on the European continent and tries to piece together what happened. How did he get here? How's he going to get home?"
But from the way Reedus tells it, that was not the original plan. "These talks about the spin-off had been going on for two years," says Reedus. "It was a good year before they announced that The Walking Dead was going to end. And over the course of time, it kind of changed directions multiple times."
"It's explosive, it's heartbreaking. It's satisfying," Reedus teased.
"It's in France. It's epic in scale. I mean, it's f—ing me epic." Reedus teased at New York Comic Con 2022. "I've been on location over there for a bit. I've been talking to sound people, photography people, it's crazy what we're going to do, I think France is gonna have a heart attack. Which is good, it's what I want. It has a different look, it has a different feel, has a different sound to it. It has all the things that you like about the show, but [with] new people experiencing them in a different kind of way. It's something I think we're all going to love and something that I'm going to be proud of."
Is there anything that you can tease about Walker variants in Europe?
Gimple said, stuff has gone in France? And it's weird, and we saw some of it in Walking Dead: World Beyond. So Daryl in is experiencing things that he hasn't experienced before in life and with Walkers.
Angela Kang is stepping back from Showrunner position
Longtime ER showrunner David Zabel has joined the as-yet-untitled TWD spinoff as showrunner, AMC confirmed to Deadline exclusively. Zabel replaces current TWD showrunner Angela Kang, as the day-to-day boss on the now Reedus solo series that will be set in and shot in Europe. The spinoff is set to premiere in 2023.
Walking Dead 's Daryl Dixon Spinoff Casts Clémence Poésy, Adam Nagaitis
"The Walking Dead" spinoff centered on Daryl Dixon has added both Clémence Poésy and Adam Nagaitis to its cast, Variety has confirmed.
Poésy will star as Isabelle, described as "a member of a progressive religious group who joins forces with Daryl on a journey across France and finds herself confronting her dark past in Paris." Nagaitis will play Quinn, said to be a "displaced Brit who has become powerful in post-apocalyptic Paris as a black marketeer and the owner of the Demimonde, a sexy underground nightclub."
More spin-offs are coming!
This isn't the only spinoff fans can look forward to! Premiering in 2023, the new series Dead City will follow the unlikely pair – played by Lauren Cohan and Jeffrey Dean Morgan – into what AMC calls "a post-apocalyptic Manhattan long ago cut off from the mainland.
Isle of the Dead is the fifth spinoff of the original AMC drama based on Robert Kirkman's comic-book series. Previous spinoffs include Fear the Walking Dead, The Walking Dead: World Beyond and the in-the-works Tales of the Walking Dead and an as-yet-untitled Daryl spinoff.
"It's going to be way different. The story's way different. The characters are way different. There's a different tone, there's different light, there's a different sound. It's a whole different vibe."
"We're three weeks done. We've got three weeks in the can. It's f—ing great! Everybody that's involved in it is really, really excited about what we're doing. It's so epic in scale, and the tone is so good and different, and moody."
Reedus also says the move to Europe definitely gives the spin-off a different vibe from the original: "There's history in the story. There's history in the walls around us. There's history in the sound of it all. It's a very different feel. It has the stuff that you want from the show, but it's just picked up and put in a whole other dimension."
While The Walking Dead may still be in the show title, the actor says this story is more than a continuation. "It's a reset," says Reedus." You learn a lot of things after 12 years of doing a show, and there are certain paths that you inevitably have to go down because [there is such a big cast]. We don't really have that over there. It's kind of a fresh start for us, with all the things that we loved doing, and just a whole bunch more."
While his character of Daryl will be adapting to a new environment on screen, Reedus has been doing the same as he adjusts to the weirdness of filming a Walking Dead show on the other side of the Atlantic. "It's weird as s—, but that's the story," says Reedus, drawing a connection between actor and character.
"People are speaking French around me, and part of my story is me trying to figure out, 'Is this good or is this bad? Are we about to get into a fight or are we friends right now?' I'm trying to read lips with the language that I don't understand and I'm reading body language, I'm reading tone. I'm reading all sorts of things, and it's confusing and I'm figuring it out. I figure out how to get out of it, and how do I get to the next step. It's all part of the story. So is it weird? Yeah, it's weird, but that's the show we're making. So it's working really well."
"Greg's a storyteller. He knows how to find the in between moments that really make or break the tone of something. And he's good at bobbing and weaving, finding those things. And he's got the history in the show and he knows his characters so well, so it's really an asset."
Reedus sounds reenergized when talking about the new series and bringing his character into a completely new environment. "I couldn't be happier, really. We just started, but it's what I wanted to do. It's exciting, and everybody is kind of freaking out because it's so good. It's something I'm really proud of. We just got to keep it up."
Keep following us to stay updated on the world of movies and TV series.
Aurora
Source: TVLine / EW / Variety/ PEOPLE
Please step by our Facebook page SurvivedtheShows, Instagram page @survivedtheshows and Twitter page @SurvivedShows to keep yourself updated!