After much anticipation, Virgin River Season 4 is coming to the Netflix platform on 20 July 2022. According to Kai Bradbury, who plays Doc's mysterious grandson, there will be a lot of unexpected twists coming up with Denny's arrival on Virgin River Season 4.
We at Survived The Shows had the pleasure of chatting with Kai Bradbury over email about his experience on the show and in particular what we can expect from season 4!
What is the main element of Denny's character and the show in general that fascinates you the most and drew you to join Virgin River?
KAI BRADBURY: In many ways, Denny is close to who I am and so I find a sense of comfort in playing him. Virgin River draws me in with its dynamic and deeply loving relationships. There's a wonderful sense of heightened naturalism about the show that perfectly marries grounded humanity and exciting drama.
Considering how Virgin River characters are always so believable and realistic, is there anything in Denny's character that you see in yourself?
KB: As I mentioned, Denny and I share lots of commonalities. Overall, we both aim to be positive lights in the lives we touch and have a deep love of life and the world around us. Like many actors say, the roles we play tend to rub off on us and give or teach us something we didn't know we needed.   
If you had to describe Virgin River Season 4 in three adjectives, which ones would you choose?
KB: Thrilling. Uplifting. Unexpected
What can we expect from Denny's storyline on Virgin River Season 4?
KB: Denny Cutler is a 19 year old Stanford student who grew up in Seattle, WA. I wish I could say more, but I'll tease that he's got a lot going on… things to teach others and lessons to learn. It's a small town, so who knows where Denny might end up? I've enjoyed playing with subtle intricacies this season. There has been lots to layer in and it's always fun and challenging when a character is dealing with secrecy.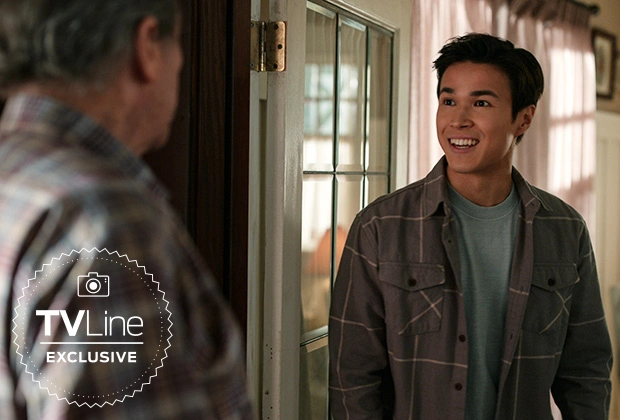 How was it like for you to work with Tim Matheson?
KB: Working with Tim is an absolute pleasure and truly an honor to work with. He is hard working, generous and his professionalism is very inspiring. As for Doc and Denny's relationship- that remains to be seen. 
Talking about the environment on set, how would you describe your experience working on the show?
KB: The cast and crew have hearts of gold. With a big ensemble cast, I love getting to work with so many different artists. It's like a big family. The loving and dedicated fans of our show make us want to work hard to bring the best we can. Like the people of Virgin River have each other's backs, it takes a village to bring this beautiful show to life.  
Do you have any fun anecdotes from the filming of Virgin River Season 4 to share with us?
KB: Denny's got a big blue hiking backpack that we see at the end of Season 3. I had a scene sitting on a bench with that bag and during a take, I stood up, a strap got caught and the entire bench lifted up with me. I hope that footage still exists somewhere. 
If you had to choose one character, besides Denny, that you would have liked to play in Virgin River, which would it be?
KB: I'd say Connie because she cracks me up, but no one does it like Nicola Cavendish. 
What kind of advice would you give to those people among our readers who want to pursue an acting career?
KB: At the end of the day, acting is like any other career and demands patience and hard work all the same. No matter what stage you're at, do your research and do the necessary steps to support your next move. Take it into your own hands to make it happen and don't forget that you love your work even when things get tough. 
Keep following us for more news about Virgin River and other Netflix TV series!!!
Chiara
Please step by our Facebook page SurvivedtheShows, Instagram page @survivedtheshows and Twitter page @SurvivedShows to keep yourself updated!!!