With Outlander Season 6 which wrapped its run a while ago now, it's time to start warming up and get ready for Season 7 of STARZ's time travel drama!
Starz announced Outlander will premiere with the first 8 episodes of Season 7 on June 16, 2023. Second part will instead be relased in 2024!
Here's a first teaser trailer!
Following the harrowing events of Season 6, Jamie and Young Ian race to rescue Claire before she's tried and wrongfully convicted for the murder of Malva Christie. But their mission is complicated by the beginning of a geopolitical firestorm: The American Revolution has arrived. In the seventh season of OUTLANDER, Jamie, Claire, and their family are caught in the violent birth pains of an emerging nation as armies march to war and British institutions crumble in the face of armed rebellion.
The land the Frasers call home is changing – and they must change with it. In order to protect what they've built, the Frasers have to navigate the perils of the Revolutionary War. They learn that sometimes to defend what you love, you have to leave it behind. As the conflict draws them out of North Carolina and into the heart of this fight for independence, Jamie, Claire, Brianna, and Roger are faced with impossible decisions that have the potential to tear their family apart.
Outlander Is Back and Headed in a New Direction
Outlander is back, and nothing will ever be the same for the Frasers. Having seen the first four episodes of the new season, I can say that it's the same Outlander you love, but as the first few episodes unfold, it begins to feel like a whole new show. Change is uncomfortable, and there's going to be a lot of it this season, but it also energizes the series in a really thrilling—and poignant—way.
"It's explosive. Literally and figuratively," executive producer Maril Davis tells Glamour. "I'm so thrilled how the four episodes that we took from season six moved into season seven. This is the first time we've combined three books technically into one season, so I'm thrilled that it actually works. The writers did such an amazing job."
The cast—namely Caitriona Balfe, Sam Heughan, Sophie Skelton and Richard Rankin—have been on a huge press tour ahead of the new season, and while it's hard to keep finding new ways to say the same thing, Heughan tells Glamour that "honestly, I'm actually really proud of this [season]. It's so big, so vast, so much happens. When fans see some of the returning characters that we've got, some of the storylines…[it's epic]." He also teases that there's musical numbers, but we're a tad skeptical about that one.
'Outlander' Stars Tease Epic Battles, Claire's Ties to Other Men & More in Season 7
As viewers will recall, Claire (Balfe) and Jamie (Heughan) ended Season 6 on quite a cliffhanger as she remained imprisoned for the alleged murder of Malva Christie (Jessica Reynolds). Meanwhile, Jamie was rescued by his nephew Young Ian (John Bell), as Richard Brown (Chris Larkin) planned to have him shipped off to Scotland and away from Claire.
Only the show's upcoming premiere will reveal what's to come, but Balfe's excitement for the season stems from the relationships Claire is having with other men. Yes, you read that right, other men. "There's some stuff I can't really talk about, but I will say some of the new characters that are coming in are really amazing," Balfe muses, calling out Joey Phillips, Izzy Meikle-Small, and Charles Vandervaart. "I would say there's some certain stuff with Claire and other men, not always Jamie," she adds that she's excited about.
"And I think fans are gonna be very shocked, and it's not just one," she clarifies. "I'm really lighting a match there," she adds with a laugh.
As for Heughan, he's excited about the epic-ness of the Revolutionary War setting and hints at twists to come.
"It's a bumper season," he declares. "There's a lot that happens this season, and honestly, we've all said it's very epic." Further explaining what fans can anticipate, he says, "The first [episode] kind of ties up a lot of the Season 6 storylines. And then [Episode] 2 really turns everything on its head." In other words, keep a lookout for Episode 2.
Executive producer Maril Davis also calls out Episode 2, noting that there's a scene in the installment titled "The Happiest Place on Earth" that's "between Jamie and Brianna. And I'm excited for people to see that scene." Davis remained mum otherwise, avoiding any potential spoilers for the season.
Speaking of Brianna (Sophie Skelton), though, Jamie and Claire's daughter is coming into her own this season, and Skelton says, "I'm really excited for them to see the woman that Brianna has become. I'm so proud of her." Having played the character from age 16 in flashbacks in previous seasons to the current timeline in the series, Skelton can't help but marvel over her character's journey.
"She has children now. She's such a good mother, she has such a good sense of self, and she's always been such a loyal and caring person, but I feel like that maybe used to come out in a hotheaded manner. Now I think she's really learned to assess the situation, before jumping in and calculate in a healthy way."
Season 7 will include 16 all-new episodes, but they'll be split into two halves, with the first eight arriving this summer and the back half dropping sometime in 2024. Don't fret on the storyline front, though, as Richard Rankin, who plays Brianna's husband, Roger, promises, "Season 7's got so much in it. It's so action-packed that there's a point in the story where you've just got like half a dozen major storylines running at one time… Fans are gonna love it."
As for David Berry's Lord John Grey, a lot of change is on the horizon, according to the actor, who gets candid about impending misery. "I'm really excited for people to see Lord John in misery. He's gonna be completely miserable this season. He's gonna get kicked to rock bottom and then kicked in the nuts while he's down there. He's gonna have to let go of all his deportment, his style. He's going to be a person that you haven't seen before."
For those that may need a refresher, Lord John Grey is the adoptive father of Jamie's biological son, William Ransom (Vandervaart).
Their secret arrangement could get dicey as William intends to enter the war on the side of the Red Coats. Considering Jamie and Lord John's differing stances on the war, tensions are surely on the horizon, and Berry's words only serve to confirm it.
"We've been, we've been teasing this for a few seasons now, and it's finally here," Vandervaart says of the Revolutionary War. "It's gonna be massive."
War or no war, star John Bell is teasing Young Ian's fighting spirit this season. "I'm excited for them to see Young Ian kick some serious ass, yeah. He ain't messing around this season. This is Ian's final form. He ain't here to play no games. He's gonna take out the trash."
John Bell Talks 'Peace' for Young Ian on Outlander Season 7
Matt Carter had the chance to ask John Bell what can we expect from Young Ian's arc on Outlander Season 7 and here's what we found out!
Per Ian, he has been through more than any human should. We find Ian really coming into his own this season. He's got the support and trust of his uncle and they make a great duo. He's able to start to leave that past trauma behind him and potentially move forward and find maybe a little bit of peace somewhere — which, maybe you would agree, he deserves.
Odds are, Young Ian will be relied upon more than ever this season, as well — remember that we've also got a big arc ahead with the Revolutionary War, and we tend to think Jamie and some of the other residents of Fraser's Ridge are going to need every bit of help possible. Sure, the top priority in the premiere is saving Claire, but there is more coming on the other side.
Diana Gabaldon Talks Outlander Season 7
Season 7 is nearly here. What should readers of the books look forward to?
Diana Gabaldon: One of the things the Outlander production as a whole does really well is battle scenes. We have a certain amount of the [American Revolution's] Battle of Ticonderoga, the first Battle of Saratoga and a lot of the second Battle of Saratoga, which is the one where Benedict Arnold played a big part. And I absolutely loved the actor playing Benedict Arnold, Rod Hallett. The casting this season has been spectacular. Every character is just right.
Fans are always wondering which books are the basis for each season. What can you tell us about Season 7?
It's covering An Echo in the Bone [Book 7, published in 2009]and Written in My Own Heart's Blood [published in 2014].
Did you write any episodes for Season 7?
I wrote Episode 14. They give me a synopsis, and then it's up to me how I want it to happen. There's a lot of flexibility to it.
EP Maril Davis Takes Us Behind-The-Scenes of Outlander Season 7
So, you basically did sixteen episodes of a premium-cable show at a time when so many other shows are lessening episode counts. How are you feeling? How have you even recovered?
Maril Davis – This season was so exciting, even though it was a year long! Season 6 was really tough for us. We were deep in [the global health crisis], we didn't have a huge presence on set because of the restrictions. We still had restrictions this year — we still had to wear masks and do testing — but I think we were so excited to be back and energized by this season. It went by really fast. I can't speak for the crew, they might think it was long — but I think it was a really fun season.
The fun part for me is that we've almost been on this roller coaster, going up and up and waiting for the Revolutionary War to drop. Now, it has! Obviously, you have tackled battle scenes before, but how did you make some of those work this season?
Every season has its own pressures, and this season was definitely tough. We were in a lot of different areas, times, places. Like you said, we had quite a few battles to film and figure out. I think this season, the direction we took was that each battle had a perspective from one of the characters. We saw that battle through their eyes. That really opened us up [with] our director Joss [Agnew], who did the first battles we did. I thought that was a really creative way to get inside the characters' heads and [made] the battles seem personal.
For me, it really narrowed down the focus and for the crew, it made it manageable in a way we could pull it off.
You've got these elements — action, adventure, and drama, but then you've still got the focus on Jamie and Claire and all of these romantic stories. I mean, you have to be used to balancing all this, but is it ever daunting?
Oh, c'mon (laughs), just throw us another storyline and we'll take it on! We're so used to doing this and our crew is so amazing and ready. I think one of the things that has made this show fresh is you never know what's around the corner. We're a traveling show and we've been so since the first season. It makes it tough to film but on the other hand, it makes it new and fresh.
What did you enjoy the most about this season? The cast and crew are such a well-oiled machine at this point.
I've said this a couple of times now, but I think every character this season has their own special moment where they shine. Sam [Heughan] has such a great arc, and there are some really lovely moments with Caitriona [Balfe] and Sophie [Skelton]. Caitriona has some amazing stuff, and in the second half has a real tour de force performance. Sophie has this amazing episode I'm so excited for people to see, and Richard has this amazing performance. He teams up with another character we'll see. John Bell has a really exciting storyline this season.
For everyone this season, there's something. I think there are just some unbelievable performances from our cast this year.
Outlander is going to war in Season 7
"We've left her in this prison," says Balfe. "Her future is very precarious. We don't really know what's going to happen. All we know is that the normal systems of law have broken down." It's a startling cliffhanger, even by Outlander standards, though it was not the intended ending of season 6, which was cut short due to Balfe's pregnancy and COVID delays.
Still, don't expect Outlander to merely tack on those last four episodes to the start of season 7.
"There are some major story threads from [season] 6," says executive producer Matthew Roberts. "We do cover those, but we meld them into ending one section of stories at the exact same time as starting new stories. We had to rewrite them completely to get them into new stories going forward."
Those new stories mean it's out of the whiskey barrel and into the bottle for the Fraser family.
"The kitchen sink is what you can expect," teases Roberts. "We load that kitchen sink up with everything. In comparison to other seasons, there's more going on in season 7 than every one of our other seasons, not necessarily combined, but pretty close to it. We finally get to the Revolutionary War and how it affects all of our characters."
Adds Balfe: "This season is so epic. It's the season that's closest to season 1 in terms of the scope and the span."
That span will find the Claire and Jamie (Sam Heughan) far afield from the Ridge, as the Revolution draws them away from home.
Season 7 also introduces a heap of new faces, including a grown-up version of Jamie's son, William (Charles Vandervaart). Executive producer Maril Davis likens the tension between William, his adopted father Lord John Grey (David Berry), and Jamie to that of a love triangle.
We'll also meet Quaker brother and sister, Rachel (Izzy Meikle-Small) and Denzell Hunter (Joey Phillips). "The Hunters are a lovely, different take," teases Davis. "They don't believe in violence and they're coming into the Fraser family, where violence follows them wherever they go."
With such violence comes a host of new dangers, including a twist on the show's big bads. While previous seasons have featured one major villain (Black Jack Randall, Geillis Duncan, Stephen Bonnet, etc.), season 7 explodes the concept of who is friend or foe.
"Season 7 is all about fractured villains," Davis says. "A supersized season calls for supersized villains — or multi-pronged villains."
The biggest villain of all, however, isn't a person at all — it is the senselessness and chaos of war. Claire and Jamie are no strangers to that, but they now have an extended family to worry about.
"They're very accustomed to war," says Roberts. "The very first scene we ever filmed of Outlander was Claire in World War II. In a weird way, they're grizzled veterans of war, Jamie and Claire, but we have different characters joining. We have young Ian (John Bell), and William, who doesn't know the difference between what he reads about war and reality. It's how war affects their loved ones more than it affects them."
Indeed, for both Claire and Jamie, the familiarity of war allows them to thrive.
"Because it has been such a constant in her life, she knows how to function in that reality," reflects Balfe. "It's a skill and it's a strength, but it's also a wound. We've seen Claire in this position before. In the time of war, life becomes very immediate. She can see that a lot of these things are weighing very heavily on Jamie. As a wife, she's trying to be there for him and be a support while also being scared for his life. But Claire is not just that. As a doctor, she's right there, if not on the front lines, then very close to it."
Season 6 saw a broken Claire, traumatized by a gang rape and relying on ether to cope with the demons in her own mind. Oddly enough, the Revolution is a fresh start for her.
"She relishes that this is something that she's very good at," adds Balfe. "We see her in her groove in a weird way. It's obviously a very precarious time, but it's also where her skills are very useful."
With that renewed sense of purpose comes a more empowered, more whole Claire.
"Last season was a real tough one for Claire. We saw the breakdown of her psyche," says Balfe. "Even though there's a lot of danger, it's healing. She has figured out how to come through the worst thing that she's lived through, and it's made her a stronger and more resilient person. She's in a much better place than last season, even though many bad things still happen to her. Her self-destruction was almost necessary because her old mechanisms for coping no longer served her.
"What we see this season is that when things get tough and when things are hard for her, she has learned already that she has to approach it in a different way," Balfe continues. "With her and Jamie's relationship, she's much more open and more willing to discuss things that are really hard for her. That helps with how she processes and how she heals from things."
Both Balfe and the producers promise moments of levity amidst the bloodshed, particularly when Claire crosses paths with famous historical figures.
"It's an opportunity for the show to delve behind what the assumed narrative is," teases Balfe.
Of course, it wouldn't be Outlander without the looming prospect of time travel. Roberts and Davis tease that there will be multiple timelines this season, and regardless, Claire and Brianna (Sophie Skelton) must once again wrestle with their knowledge of the past and how they can affect change, if at all.
"You can't change destiny or the broad strokes of what's happening," says Balfe. "So you have to try and look out for yourself and your family and do the little things that you can with the knowledge that you have. Claire has learned that you can't push against the wheels of time too much because they don't budge."
They might not be able to push against the wheels of time, but they can push Outlander to new heights, which is what season 7 aims to do.
"We did go all out," pledges Roberts. "It's one of the most emotional seasons. There's a lot of heartbreak and joy and disappointment. Everything you want in a drama, it's all there."
Meet the new cast members and comebacks for Season 7!
"One of the many joys of our epic story is the element of time travel which allows us to revisit some of our favourite characters in different times and places, and we're thrilled to welcome back so many familiar faces for season 7. In addition to our returning cast, we're also excited to welcome several new actors to the Outlander family and cannot wait to introduce them to fans in our extended season."

Matthew B ROBERTS
Diana Gabaldon promises Outlander fans will love season 7 and exciting new character
Speaking to the Scottish Daily Express, Diana Gabaldon said: "I can be pretty sure that fans will love season seven and I've been really enjoying what I've seen of it, they send me all of the dailys that they shoot every day. They do show me the episodes as they're sampled so I've seen the first six episodes and those are fabulous."
She did praise new character, William Ransom, played by Charles Vandervaart, describing him as a "lovely Canadian."
She said: "One particular thing that fans have not yet seen but they will definitely enjoy is the new actor who is playing Jamie's son William, a lovely young Canadian named Charles Vandervaart. [Charles] is an extremely charming young man and a fine actor, and he does actually look like he could be the son of Sam Heughan and Hannah James."
Production Updates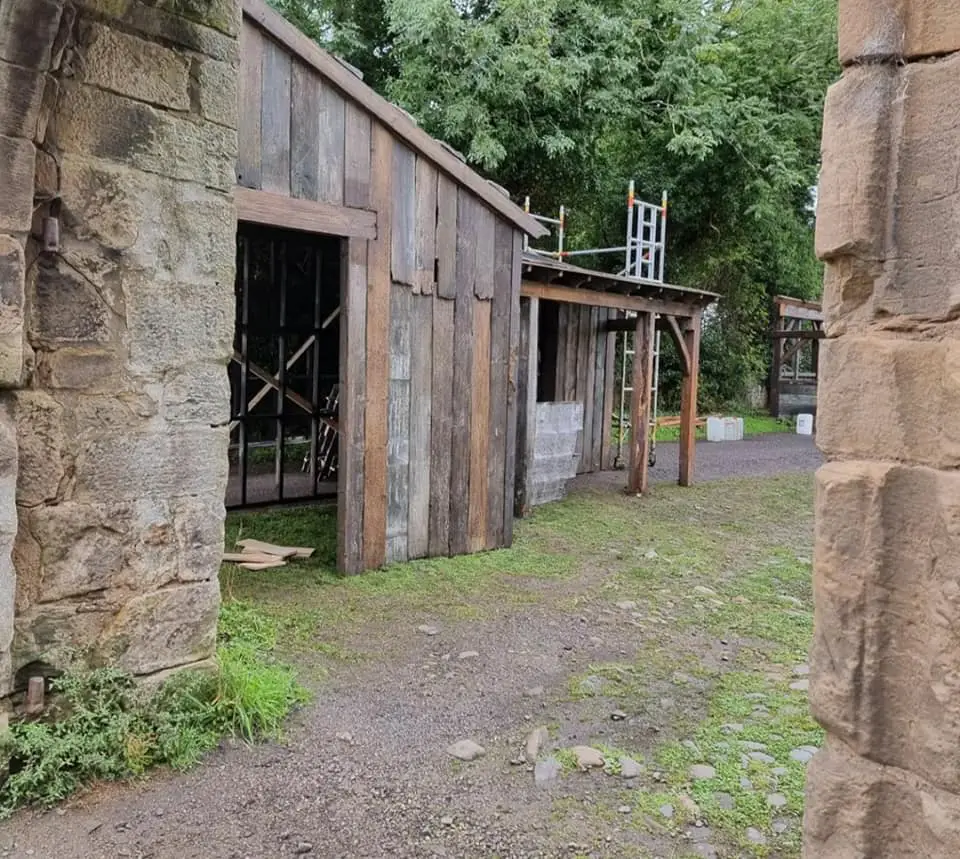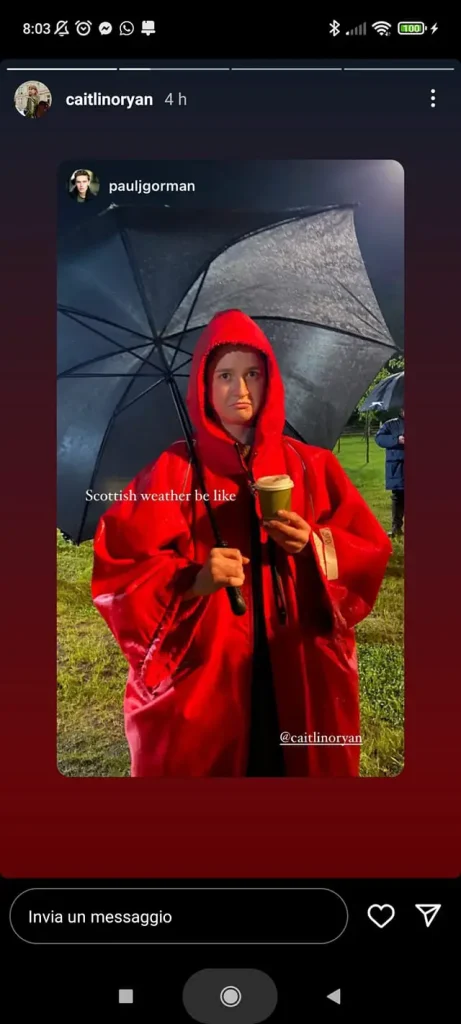 According to a Twitter announcement by Screen Scotland, later retweeted by Outlander lead Sam Heughan, the production is starting to look for new crew members, ahead of the start of filming Season 7, which, according to what executive producer Maril Davis told at New York Comic Con, should start in Spring 2022
Moreover, Caitriona Balfe, who recently joined Josh Horowitz in a new episode of his talk show Happy, Sad, Confused, also teased the fact that some of the first scripts from Outlander Season 7 are ready and she's waiting to read them and get ready to start filming a super-sized season, which will feature 16 episodes!
"The first two eps are in my inbox so it's exciting, we're gearing up to get back on it. It'll be a tough one, we'll be shooting for a whole year. So in the words of Dougal McKenzie, we're going to gird our loins."

Caitriona Balfe
The Irish star joked that when the first two scripts landed she was up at 3.30 am feeding her son, so she was feeling a bit cross-eyed when trying to read the scripts.
Actually, it's not much what we know about Outlander Season 7, but we'll keep you updated if there are any news!
Except for upheavals by writers, Outlander Season 7 will be based primarily on the events of book 7 in the literary series by Diana Gabaldon, An Echo in The Bone. In addition, to compensate for the reduction in the number of episodes for season 6, the following season 7 will be composed of 16 episodes. A return to the origins, being the same number of episodes of the first season!
The announcement that Outlander was renewed for Season 7 happened on March 14 while Season 6 was in production after delays due to COVID-19.
According to some casual spoilers from Sophie Skelton and Richard Rankin at the Outlander Season 6 premiere event, Season 7 will feature scenes with Brianna Fraser driving a 1980s car of her own! Will they go back to the future this season?
In an interview with us from Survived The Shows, Diana Gabaldon also teased the presence of a voice-over with a speech taken from a Jamie-Claire prologue in the books.
Where can viewers expect Outlander Season 7 to start the action? Star Sam Heughan recently told US Weekly:
We pick up shortly after with the end of last season, which is a great cliffhanger. America really is in sort of turmoil. There's revolution, and Jamie and Claire are separated. The prophecy of Jamie and Claire's death, you know, that they're supposed to die in a fire. There's just so much going on.

Sam Heughan
In a recent interview with Gold Derby, Caitriona Balfe shared an update about how the filming for Outlander Season 7 is going.
It's been really a great start. I mean, I would say for all of us this has felt like such a rejuvination, because I think obviously last season was really tough. […] But this season it felt really strong, we had an amazing director for the first two eps, Lisa Clarke. She has been fantastic – really really beautiful strong eps. We've just wrapped three and four with director Jackie Gold and it was really really great, you know, the scripts are great. We have a lot of scripts in early, so we all feel very organized. We're all excited about it.

Caitriona Balfe
According to the actress, they will be filming 'til February-March next year.
Meet William Ransom!
Long awaited by fans of the saga, Outlander has finally found its young William Ransom, Ninth Earl of Ellesmere, illegitimate son of Jamie Fraser then adopted by Lord John Grey: Charles Vandervaart.
Meet Denzell and Rachel Hunter!
Two characters beloved by fans of the Outlander literary saga are undoubtedly Denzell and Rachel Hunter – siblings, doctor and nurse, Quakers, who the Frasers will meet during the American Revolution – more precisely near Ticonderoga. Well with the first photos coming in from the set of Outlander Season 7, and as we at Survived The Shows teased a couple days ago, Joey Phillips and Izzy Meikle-Small will be playing our Denzell and Rachel Hunter!
Chris Fulton secretly joined Outlander Season 7 as Rob Cameron
We have learned via several blogs and websites around that Chris Fulton has quietly joined the upcoming seventh season of Starz's hit series Outlander. In the new season, Fulton will be playing the character of Rob Cameron, who is described as a handsome man in his mid/late thirties. The news has not yet been made official by the series' production, but the British actor has been spotted several times on the Scottish set, as you can see in the photo below.
As book readers well know, Rob Cameron is supposed to be one of the antagonists in the future seasons of Outlander and he'll likely become a series regular there.
The Christies will be back!
Speaking exclusively to Digital Spy, Alexander Vlahos, who plays Allan Christie, has teased Malva's half-brother Allan's role going forward as a possible suspect for Malva's murder, noting that "the Christies journey isn't over" on Outlander Season 7.
"Whether that means I'm back or not… but obviously Malva's dead, six feet under," he said. "For Tom and Allan, it surely can't be over. So I will say, you know, Allan's journey on that, there's so much more that we shot that didn't even make it in to the show, which is a shame. The Christie's journey isn't over. [Alln] He's a puppet master. He might look dim or quite simple when people meet him, but I think he's malicious. He's a puppet master."

Alexander Vlahos
As a consultant on the show, Diana Gabaldon confirmed she knew about the renewal before the public did. With that said, she admits that she — and pretty much everyone else involved in the TV production — "totally don't know" what the future holds after that.
"We don't know whether seven is the last bit we'll get. If it is still going strong and if our lead actors are inclined to go on and [the production company] Sony is inclined to go on, who knows? But there's just way too many imponderables to predict."

Diana Gabaldon
"Listen, I'd love a Season 8, so I think we're all ready to do it if we get the go-ahead. But, obviously, yes, I hope [we find out] in enough time to do justice to it. Also, the longer we wait, the longer the Droughtlander would be because this show is such a massive endeavor, it takes a long time to get it up on its feet. I hope they tell us. I would love to know earlier rather than later, so, hopefully, we will know soon."

EP Maril Davis to Parade.com
It is also well known that Gabaldon revealed to the series creator, Ron Moore, and leads Sam Heughan and Caitriona Balfe, the ending of the series, in addition to the identity of the famous ghost of the Scotsman who shooked us in the first episode. All of us fans we hope they will continue to tell us more of the adventures of the Frasers for another 20 years, but in case Outlander ended with season 7, will the authors manage to give a dignified and sensible conclusion, reconnecting the events to the final still unknown to us?
We just have to wait and see what surprises the writers have in store for us!
Keep following us for more news on Outlander Season 6 and its cast!
Chiara
Don't forget to like us on Facebook, Instagram and Twitter, Survived The Shows / @survivedtheshows / @SurvivedShows to keep updated!