With Outlander Season 6 which wrapped its run a while ago now, it's time to start warming up production engines for Season 7 of STARZ's time travel drama!
Here's a first teaser trailer for Season 7, which is premiering Summer 2023 on STARZ!
Outlander's seventh season will pick up after the events of the Season 6 finale, which saw Claire (Caitriona Balfe) arrested by Richard Brown (Chris Larkin) for the murder of Malva Christie (Jessica Reynolds) and for being a witch.
The folks from Fraser's Ridge, led by Malva's father Tom (Mark Lewis Jones), believe Claire ended Malva's life following the descedent's allegations that Jamie impregnated her while they were embroiled in a steamy affair. Malva and Jamie were not having an affair; however, the former was hooking up with other local young men—a fact Claire did not share publicly for whatever reason.
As Claire prepares to go to trial this season, things look quite worrying.
Sam Heughan hints at a possible summer release for Outlander Season 7
At a recent event in Madrid, fans took the opportunity to get exclusive news from Sam Heughan about the premiere date of Outlander season 7.
The actor let himself slip a "Maaaaybe summer?!", bringing back speculation about a possible airing in two parts. Just as it was for season 1.
Meet the new cast members and comebacks for Season 7!
"One of the many joys of our epic story is the element of time travel which allows us to revisit some of our favourite characters in different times and places, and we're thrilled to welcome back so many familiar faces for season 7. In addition to our returning cast, we're also excited to welcome several new actors to the Outlander family and cannot wait to introduce them to fans in our extended season."

Matthew B ROBERTS
Diana Gabaldon promises Outlander fans will love season 7 and exciting new character
Speaking to the Scottish Daily Express, Diana Gabaldon said: "I can be pretty sure that fans will love season seven and I've been really enjoying what I've seen of it, they send me all of the dailys that they shoot every day. They do show me the episodes as they're sampled so I've seen the first six episodes and those are fabulous."
She did praise new character, William Ransom, played by Charles Vandervaart, describing him as a "lovely Canadian."
She said: "One particular thing that fans have not yet seen but they will definitely enjoy is the new actor who is playing Jamie's son William, a lovely young Canadian named Charles Vandervaart. [Charles] is an extremely charming young man and a fine actor, and he does actually look like he could be the son of Sam Heughan and Hannah James."
Production Updates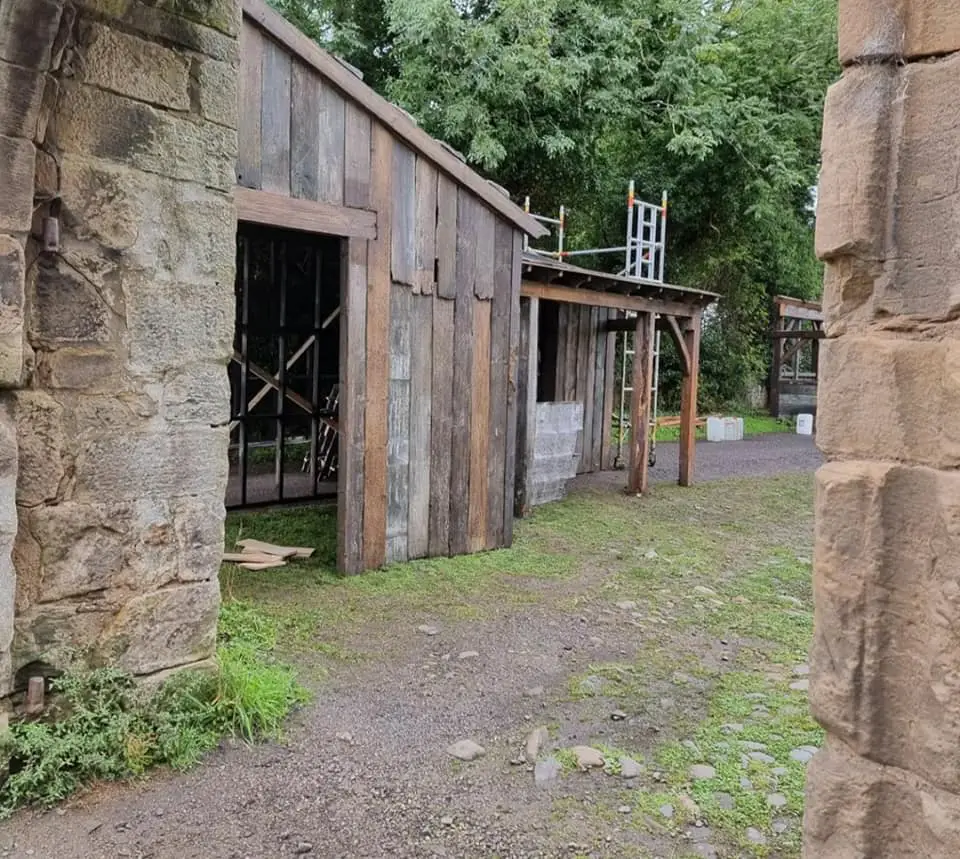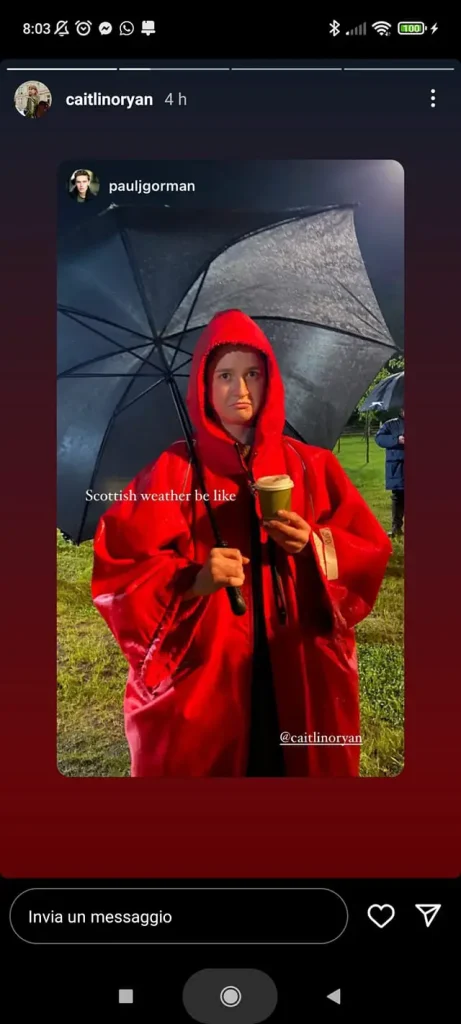 According to a Twitter announcement by Screen Scotland, later retweeted by Outlander lead Sam Heughan, the production is starting to look for new crew members, ahead of the start of filming Season 7, which, according to what executive producer Maril Davis told at New York Comic Con, should start in Spring 2022
Moreover, Caitriona Balfe, who recently joined Josh Horowitz in a new episode of his talk show Happy, Sad, Confused, also teased the fact that some of the first scripts from Outlander Season 7 are ready and she's waiting to read them and get ready to start filming a super-sized season, which will feature 16 episodes!
"The first two eps are in my inbox so it's exciting, we're gearing up to get back on it. It'll be a tough one, we'll be shooting for a whole year. So in the words of Dougal McKenzie, we're going to gird our loins."

Caitriona Balfe
The Irish star joked that when the first two scripts landed she was up at 3.30 am feeding her son, so she was feeling a bit cross-eyed when trying to read the scripts.
What do we know so far about Outlander Season 7?
Actually, it's not much what we know about Outlander Season 7, but we'll keep you updated if there are any news!
Except for upheavals by writers, Outlander Season 7 will be based primarily on the events of book 7 in the literary series by Diana Gabaldon, An Echo in The Bone. In addition, to compensate for the reduction in the number of episodes for season 6, the following season 7 will be composed of 16 episodes. A return to the origins, being the same number of episodes of the first season!
The announcement that Outlander was renewed for Season 7 happened on March 14 while Season 6 was in production after delays due to COVID-19.
According to some casual spoilers from Sophie Skelton and Richard Rankin at the Outlander Season 6 premiere event, Season 7 will feature scenes with Brianna Fraser driving a 1980s car of her own! Will they go back to the future this season?
In an interview with us from Survived The Shows, Diana Gabaldon also teased the presence of a voice-over with a speech taken from a Jamie-Claire prologue in the books.
Where can viewers expect Outlander Season 7 to start the action? Star Sam Heughan recently told US Weekly:
We pick up shortly after with the end of last season, which is a great cliffhanger. America really is in sort of turmoil. There's revolution, and Jamie and Claire are separated. The prophecy of Jamie and Claire's death, you know, that they're supposed to die in a fire. There's just so much going on.

Sam Heughan
In a recent interview with Gold Derby, Caitriona Balfe shared an update about how the filming for Outlander Season 7 is going.
It's been really a great start. I mean, I would say for all of us this has felt like such a rejuvination, because I think obviously last season was really tough. […] But this season it felt really strong, we had an amazing director for the first two eps, Lisa Clarke. She has been fantastic – really really beautiful strong eps. We've just wrapped three and four with director Jackie Gold and it was really really great, you know, the scripts are great. We have a lot of scripts in early, so we all feel very organized. We're all excited about it.

Caitriona Balfe
According to the actress, they will be filming 'til February-March next year.
Meet William Ransom!
Long awaited by fans of the saga, Outlander has finally found its young William Ransom, Ninth Earl of Ellesmere, illegitimate son of Jamie Fraser then adopted by Lord John Grey: Charles Vandervaart.
Meet Denzell and Rachel Hunter!
Two characters beloved by fans of the Outlander literary saga are undoubtedly Denzell and Rachel Hunter – siblings, doctor and nurse, Quakers, who the Frasers will meet during the American Revolution – more precisely near Ticonderoga. Well with the first photos coming in from the set of Outlander Season 7, and as we at Survived The Shows teased a couple days ago, Joey Phillips and Izzy Meikle-Small will be playing our Denzell and Rachel Hunter!
Chris Fulton secretly joined Outlander Season 7 as Rob Cameron
We have learned via several blogs and websites around that Chris Fulton has quietly joined the upcoming seventh season of Starz's hit series Outlander. In the new season, Fulton will be playing the character of Rob Cameron, who is described as a handsome man in his mid/late thirties. The news has not yet been made official by the series' production, but the British actor has been spotted several times on the Scottish set, as you can see in the photo below.
As book readers well know, Rob Cameron is supposed to be one of the antagonists in the future seasons of Outlander and he'll likely become a series regular there.
The Christies will be back!
Speaking exclusively to Digital Spy, Alexander Vlahos, who plays Allan Christie, has teased Malva's half-brother Allan's role going forward as a possible suspect for Malva's murder, noting that "the Christies journey isn't over" on Outlander Season 7.
"Whether that means I'm back or not… but obviously Malva's dead, six feet under," he said. "For Tom and Allan, it surely can't be over. So I will say, you know, Allan's journey on that, there's so much more that we shot that didn't even make it in to the show, which is a shame. The Christie's journey isn't over. [Alln] He's a puppet master. He might look dim or quite simple when people meet him, but I think he's malicious. He's a puppet master."

Alexander Vlahos
As a consultant on the show, Diana Gabaldon confirmed she knew about the renewal before the public did. With that said, she admits that she — and pretty much everyone else involved in the TV production — "totally don't know" what the future holds after that.
"We don't know whether seven is the last bit we'll get. If it is still going strong and if our lead actors are inclined to go on and [the production company] Sony is inclined to go on, who knows? But there's just way too many imponderables to predict."

Diana Gabaldon
"Listen, I'd love a Season 8, so I think we're all ready to do it if we get the go-ahead. But, obviously, yes, I hope [we find out] in enough time to do justice to it. Also, the longer we wait, the longer the Droughtlander would be because this show is such a massive endeavor, it takes a long time to get it up on its feet. I hope they tell us. I would love to know earlier rather than later, so, hopefully, we will know soon."

EP Maril Davis to Parade.com
It is also well known that Gabaldon revealed to the series creator, Ron Moore, and leads Sam Heughan and Caitriona Balfe, the ending of the series, in addition to the identity of the famous ghost of the Scotsman who shooked us in the first episode. All of us fans we hope they will continue to tell us more of the adventures of the Frasers for another 20 years, but in case Outlander ended with season 7, will the authors manage to give a dignified and sensible conclusion, reconnecting the events to the final still unknown to us?
We just have to wait and see what surprises the writers have in store for us!
Keep following us for more news on Outlander Season 6 and its cast!
Chiara
Don't forget to like us on Facebook, Instagram and Twitter, Survived The Shows / @survivedtheshows / @SurvivedShows to keep updated!