The Boys star Karl Urban, who plays Billy Butcher, says that season 4 of the Amazon series could be filmed in the end of 2022.
During an interview for Variety, Karl Urban hinted that production will rev up in the fourth quarter of 2022. "I'm shooting 'The Boys' through the end of the year," he said. The series does not yet have an official greenlight for season four, though.
Production Weekly is reporting that Production is in Active Development.
Urban was joined in studio by "The Boys" showrunner Eric Kripke and actors Laz Alonso, Karen Fukuhara, Jessie T. Usher, Chace Crawford, and newcomer Jensen Ackles. "Supernatural" alum
Ackles made waves in the new trailer as the incoming hero Soldier Boy, a "Captain America" type who was believed to be in captivity following his WWII fighting era.
Rosemarie DeWitt, Rob Benedict & Elliot Knight Board The Boys Season 4; Simon Pegg Sets Return
Rosemarie DeWitt (The Staircase), Rob Benedict (Supernatural), and Elliot Knight (Call of Duty: Modern Warfare II) have joined the Season 4 cast of Amazon's The Boys.
DeWitt will play Hughie's (Jack Quaid) mom opposite returning series star Simon Pegg (Shaun of the Dead) who plays Hughie's dad.
Is Jamie the Supe-Hamster going to be the newest member of The Boys or not?
TV Line asked showrunner Eric Kripke about possibly seeing spastic li'l Jamie again, and he said, "I would love to get this hamster back. Jamie is actually from the comics and so it was a bit of a cameo, an actually beloved character. And if I can figure out a way to get that hamster from Russia to the United States, I would love to have that character [back]."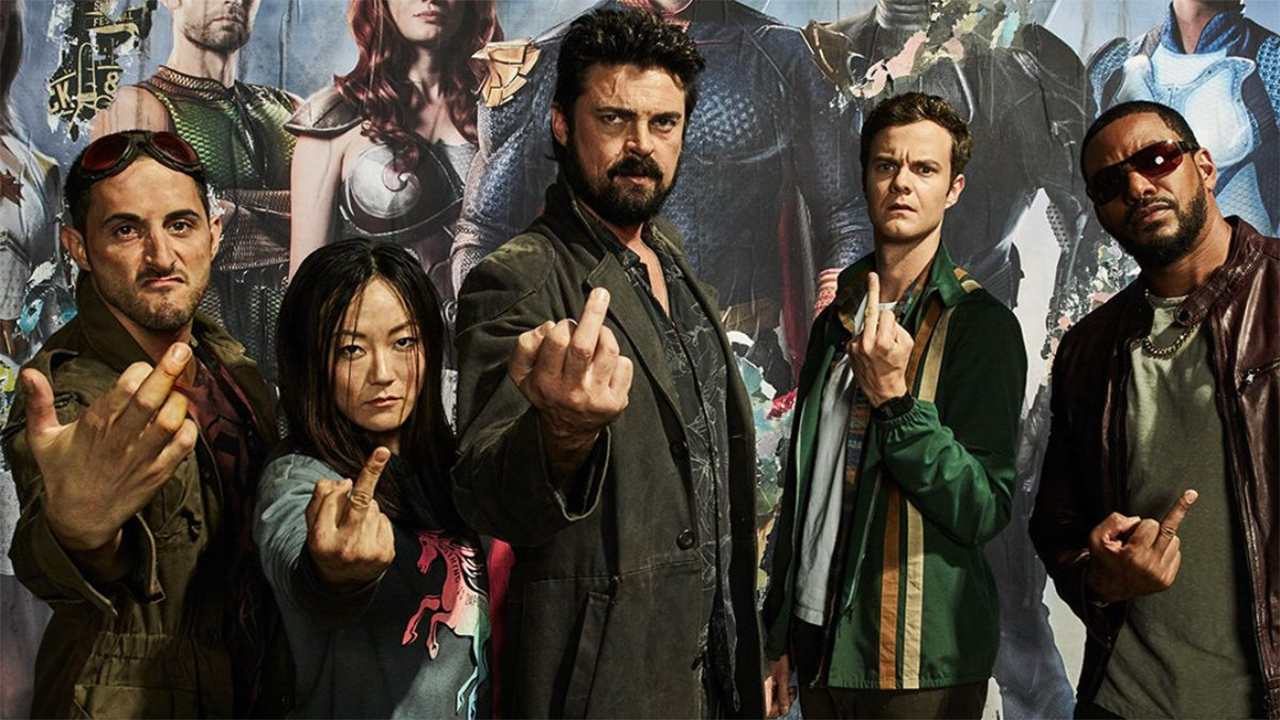 Jeffrey Dean Morgan Joins The Cast!
Jeffrey Dean Morgan will recur in Season 4 of Prime Video's superhero satire, reuniting him with former Supernatural boss and current Boys showrunner Eric Kripke. Details on Morgan's role are being kept firmly under wraps.
Filming has officially wrapped on The Boys season 4, and star Karl Urban is commemorating the moment with a photo of him and guest star Jeffrey Dean Morgan.
First Look at New Supes Sister Sage and Firecracker
Prime Video on Monday released images of Sister Sage (played by Orange Is the New Black's Susan Heyward) and Firecracker (The Following's Valorie Curry), both dressed in costumes by supersuit designer Laura Jean Shannon.
Details about the new characters are being kept under wraps until the premiere, but when the castings were first announced in August, showrunner Eric Kripke tweeted, "These new Supes are some of the best and craziest ever written for The Boys."
The EP then added, "You are going to love them. And by love, I mean be absolutely horrified and a tiny bit nauseous."
As previously reported, Season 4 will also welcome Cameron Crovetti — who plays Homelander's son Ryan — to the fold as a series regular. The promotion makes sense, given that much of the upcoming season "hinges on Ryan and the battle for his soul," Kripke previously told TVLine. "If Ryan turns into another little sociopathic Homelander, that's apocalyptic. But on the other hand, if Butcher's able to pull him away from that, then you might have the only person who can actually fight Homelander."
Might former Vought bigwig Stan Edgar manage some kind of encore?
When TV Line asked Giancarlo Esposito if former Vought bigwig Stan Edgar might manage some kind of encore, he replied: "I find The Boys to be a very creepy, interesting, edgy, and sick show  — in the best way possible. It's genius. And… I won't string it out any more: I think there is a great chance."
Promo
Keep following us to stay updated on the world of movies and TV series!!!
Aurora
Source: Variety
Please step by our Facebook page SurvivedtheShows, Instagram page @survivedtheshows and Twitter page @SurvivedShows to keep yourself updated!