Jesse Williams and Sarah Drew are set to reprise their roles as Jackson and April in the Season 18 finale of Grey's Anatomy, which airs May 26.
Drew reveals why April and Jackson return to Grey Sloan
Jackson Avery's exit was revealed in the May 6 episode, "Look Up Child," which also featured Grey's alumna Drew, who returned as April Kepner to help give Jackson a proper sendoff. Jackson visited his ex to tell her that he was moving to Boston to take over the family foundation. April agreed to follow him there so he can be close to their daughter, while dropping a bombshell of her own that she recently had separated from her husband — giving fans hope that Japril might be back on.
"What was pitched to me was that April is now working with the foundation as well," she said. "There's a whole bunch of drama happening at the hospital, and since he's heading up the foundation, he has to go [Grey Sloan] to try to sort all of that stuff out. So I come also as a representative of the foundation with him. And that is as much as I can tell you."
Drew says April changed a bit as a doctor
"I am not entirely sure that she's been out of the operating room. I know that she went off to help underprivileged folks in the medical field, but I don't know exactly how that manifested itself. I don't know if she's been doing surgeries. I don't know if she's been in emergent situations. Going off of what was discussed in the episode last year, she's really living in her purpose, in what she feels like she's meant to do with her life… that it feels very specific to who she is and that she's using her gifts in ways that she feels are part of her purpose in life. I find her to be much more grounded now, and sure of herself."
We'll have to wait and watch the episode to find out more on Jackson and April's relationship status
"I can say absolutely nothing about Jackson and April's relationship status. I can tell you that they are both there, at the hospital; and I can tell you that they both share the screen. You'll see them interact. I can tell you that you'll get a little window into what's going on with them, but I can't tell you anything else."
Drew previews a huge cliffhanger in the season 18 finale
Talking about the finale, Drew said:
"I really wouldn't call it happy. It's explosive. It leaves you with giant, epic, question marks. It's a huge cliffhanger and you're going to be like, "What is going to happen in Season 19??" That's what I can say. "
Drew hinted at a major cliffhanger for her and Williams' characters.
"It definitely leaves open the possibility that you might be checking in with them," she said. "After the script was released, I had texts flying in from cast and crew asking if I was coming back next year because of how the episode ends. But as of now that is not on the table. It's not something that anyone has discussed with me in any kind of official capacity. But there's a lot of open ended questions at the end of this episode. I think you'll leave this episode with giant question marks,: Where do we go from here? How is the hospital going to recover? What is going to happen? What is the next year gonna look like? So I think there are a million questions and a million possibilities."
If the opportunity presents itself, would Drew return for more?
"I've always kept the door open for Grey's, for my family over there," she said. "In terms of being there in any kind of permanent capacity. I don't know," she said. "I'm on an Apple TV show that's coming out in July and waiting to hear about a pickup for that, and I have a whole bunch of projects that I'm working on right now. So it's all kind of up in the air but in terms of popping in for a visit, I will always say yes to that.
This will be Drew's first Grey's episode since then
This will be Drew's first Grey's episode since then. Williams made two more appearances last season, in his last episode as a series regular the following week and a cameo in the Season 17 finale, in which he welcomed Jo and her daughter to his old apartment via video phone call. Jesse Williams and Drew's return will now provide an update how Jackson and April are doing a year later. Williams departed Grey's Anatomy last spring after 12 seasons.
William was open to return to the medical drama
"You know, I can't be sure, but I think it's possible," he said. "Yeah, I think it's totally possible. I think it's totally possible. You never know how things will shake out. There's a lot of other factors at play, including schedules and stuff, but I love the idea of keeping that option open." Drew also has said publicly that she would love to reprise her Grey's role.
Jackson's future according to Williams
"In my mind he will have many stumbles on his road to success in the administrative that he's taken on running a foundation. I think this is something he will not, cannot give up on. He has finally found a place for his whole self that is not just his profession," he said. "He's always had this bubble wrap around him that has protected him, and being able to do this work, I think, he's going to be thrilled and feeling like blood is coursing through his veins in a whole new way now. He's going to feel alive in a way that he hasn't before, which is very exciting."
Jackson and April 's future on Grey's Anatomy, according to Williams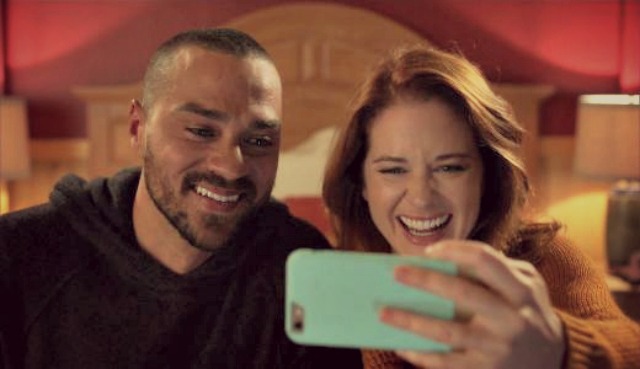 "I think it's pretty possible that he rekindles a romantic connection to his ex-wife, they're damn good together, but most importantly what he needs from that is friendship and kindness, and patience, and understanding, and I think that he will get that with her and be able to share and give and reciprocate it as well," Williams said at the time.
Are you excited to see Jackson and April back on Grey's Anatomy?
Keep following us for more news!
Aurora
Source: Deadline/TVGuide
Please step by our Facebook page SurvivedtheShows, Instagram page @survivedtheshows and Twitter page @SurvivedShows to keep yourself updated!