Any self-respecting teen drama carries with it an endless affection from fans, especially towards couples or to friendships born within the same series. Riverdale is full of very loved couples and an equally strong cheer. And how much do you fans remember and know about the evolution of couples in the CW teen drama, Riverdale? Find out with our brand new quiz!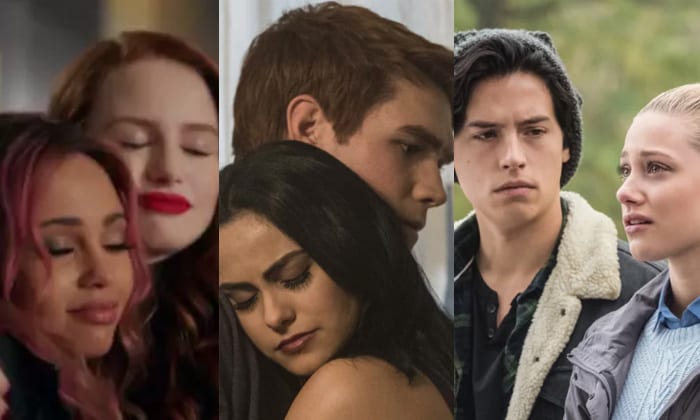 Riverdale's captivating cast of colorful characters has earned the adoration of audiences everywhere, and given how often the show deals with all sorts of romantic drama, it makes sense that fans spend much of their time shipping these characters with one another. Some of the most popular pairings are "Bughead" (Betty and Jughead), "Choni" (Cheryl and Toni), and "Varchie" (Veronica and Archie) and more.
Test yourself and learn how much you remember about the evolution of all the couples throughout the five seasons of Riverdale!
Results
Congrats! All the couples on Riverdale have no secrets with you!
You might be gotten a little distracted by KJ Apa's abs…
#1.

Before his death, with whom was Jason Blossom going out?
#2.

Archie Andrews had a love story with one of the Pussycats: who?
#3.

In season 1, the boys play Spin the bottle. Who kisses Archie in the closet?
#4.

What character had a crush on Jughead while he was going out with Betty?
#5.

Who are the only two "core four" characters who never kissed?
#6.

Who was suddenly kissed by Joaquin Desantos?
#7.

Who among these parents was having an affair?
#8.

Who was Veronica going out with, besides Archie?
#9.

Who are members of the ship "Falice"?
#10.

Where did Jughead and Betty first kiss?
Share your results on how well you know all the couples on Riverdale with us in the comments and may the best win!
Keep following us for more news about the world of Riverdale and its protagonists!
Please step by our Facebook page SurvivedtheShows, Instagram page @survivedtheshows and Twitter page @SurvivedShows to keep yourself updated about movies and tv series!!