Tim Matheson, the actor who portrays Dave Malone, Rebecca's dad on This is us, has a long and rich career behind him, between TV series and cinema, blossomed 60 years ago in 1961 with its first role in "Window on Main Street". But let's find out where you might have already seen it!
Bonanza is the TV series that made him famous (1972-1973)
Bonanza is a Western television series that ran for 14 seasons. Tim Matheson arrives in the last season of the show to play Griff King. The role has given Tim Matheson to the general public. A curiosity Uncle Nicky (Griffin Dunne)'s favorite TV series on This is us is just Bonanza, says it at a meeting between Kevin and his agents. Will it just be a coincidence or is it a applause for the set colleague?
The movie "Magnum Force" (1973)
After joining Bonanza, Matheson got a big role in the 1973 detective film "Magnum Force". Tim Matheson plays Agent Phil Sweet, a novice cop who meets the protagonist Callahan while practicing at an indoor shooting range.
Tim Matheson plays John Hoynes on West Wing (1999-2006)
On West Wing Tim Matheson plays John Hoynes, the vicepresident of the United States, then nominated for the Democratic Party primary for all 7 seasons of the show. The show is set in the West Wing of the White House where the President of the United States of America and his staff work. It tells the daily problems, the difficult public and private decisions of Democratic President Josiah "Jed" Bartlet (Martin Sheen) and his staff. From the campaign for his first election to the oath of his successor, eight years later.
He joined Hart of Dixie with Rachel Bilson and directs 8 episodes (2011-2015)
The character played by Tim Matheson in Hart of Dixie is Dr Bertram "Brick" Breeland, a medical associate for half of Harley Wilkes's clinic. He finds himself having to share the clinic with the protagonist Zoe Hart (Rachel Bilson). Brick is a typical Southern man who tries to get in the way of Zoe's business so he can buy his half of the clinic. He is often very critical of Zoe's medical diagnoses and because of his ignorance of southern traditions, his wife abandoned him 12 years earlier since that time alone grows daughters Lemon (Jaime King) and Magnolia (Claudia Lee).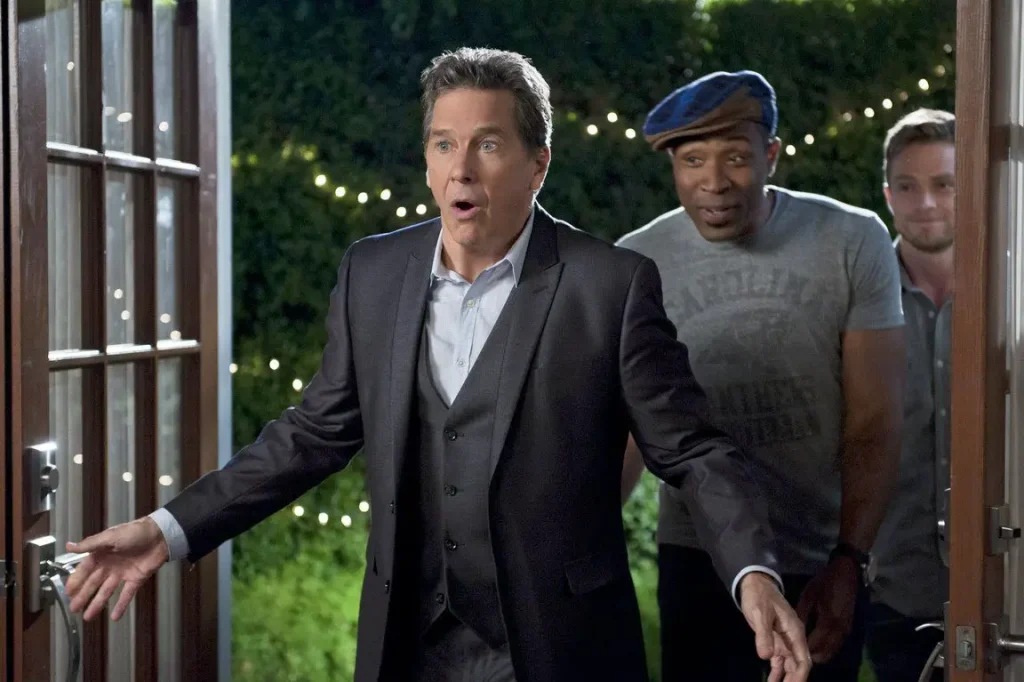 Tim plays President Ronald Reagan in the television movie Killing Reagan (2016)
In Killing Reagan Matheson plays the future President of the United States, who undergoes an attempted murder. The film tells the story of his and his wife's future first lady Nancy played by Cynthia Nixon (Sex and the City and And Just like That…).
Since 2019 he plays Dave Malone in the NBC series This is us
On This is us Tim Matheson portrays Dave Malone, Rebecca's father, in some episodes since 2019. Malone is a middle-class man who immediately clashes with the future son-in-law Jack, of more humble extraction, because he does not believe he's fit for his young daughter.
He plays Doc Mullins in Virgin River since 2019!
Tim Matheson's most recent role is that of Vernon "Doc" Mullins, the Virgin River town doctor. The show takes its name from the city and is a romantic TV drama series starring Alexandra Breckeridge (Sophie on This Is Us) as Melinda Monroe. Season 3 landed on Netflix, Friday, June 9 and the fate of Doc are hanging by a thread.
Keep following us for more news on This is Us with its drama, emotions and plots!
Desirèe Bernardin
Please step by our Facebook page SurvivedtheShows too