We're nearing the end of New Amsterdam (the two-hour series finale airs January 17), and the NBC medical drama is heading into its last break with two big episodes – Heading into those episodes, Jocko Sims tells TV Insider about Reynolds' relationships with his father (John Earl Jelks) and Gabrielle (Toya Turner), what's ahead in the final episodes (ahead of the series wrapping with two hours on January 17) and looks back on his favorite moment as Reynolds.
How is Reynolds' relationship with Gabrielle going? How does he feel about how it's going?
He treads lightly initially as we see because she's a traveling nurse and he wants something kind of long term. But I'm glad once again you have a wonderful woman in his life who's kind of pushing him out of his comfort zone. She's like, "Hey, I'm here for eight weeks and maybe that's a good thing. Just keep it light. Let's have some fun." And she convinces him. He's more than likely gonna start falling for her. What does that mean? Where's that gonna go, Meredith? Where's it gonna go?
He does not have good luck with love at all.
What are you talking about? It's been great. [Laughs]
With his father moving out, how does Reynolds feel about their relationship at that point? You said he's nervous, but does he feel like it might actually be steady enough that they can make a relationship work right now?
I think so. I think that they can make it work. They're both willing. If you look at these two characters, they're both very actively willing — now, Horace resisted for a while — to be there for each other and be in each other's lives. And they find it exciting and they have this fishing thing in common and Reynolds has this newfound love of fishing with his father. And so, yeah, I think that they'll find their way to finding something that will work. That's been basically all of Floyd's life and all of his relationships: find a way to make this crap work.
How much are we going to see that moving forward? Are we going to see it?
You will see Horace again. In what capacity? That's the question.
Now I'm worried he's gonna show up as a patient at New Amsterdam.
It's possible.
It seems like things are good between Reynolds and Gabrielle at this point. What can you say about their relationship in the final episodes?
You're gonna see the sock on the doorknob.
He doesn't need that though, if his father's moving out …
You're right. If his father was there, you know what I'm saying? He's going in, he's excited. He's feeling a bit of a relief that his father seems OK. Whether or not there will be some repercussions from relaxing, we will see. But he's going in.
How's he feeling about his career right now?
Smooth, steady. It's chill. Things are good on the work front, let's put it that way.
This season for Reynolds is all about tackling his family, not just the relationship with his father, but as you saw, in I think it was Episode 2, he wants everybody to be a family again. Not necessarily that his mom would get back with his father, of course, she's got her own man, but just that they could maybe perhaps have a Thanksgiving together, everybody together. So that's been his primary focus. I don't want to say focusing too much on nurse Gabrielle as opposed to just allowing himself to just be free and have some fun and relax a bit.
So are we gonna see a family reunion onscreen?
Some sort of family reunion will happen on screen.
Helen's (Freema Agyeman) back in New York! What can you tease about what's next there? Is her return going to affect everyone or is it more that it's how it affects Max (Ryan Eggold) than affects everyone?
The latter, because Max will definitely get affected by it. In fact, a very fun scene that I got to do with Ryan was the aftermath of him seeing her. Reynolds was literally laughing and saying, "I wish I could have seen your face when you saw her," and then he goes, "what are you gonna do? You gotta see her, come on." He's just kinda doing that thing and Max just doesn't know what to do and he's got this relationship with Wilder [Sandra Mae Frank] he's gotta deal with. So it's definitely gonna throw Max way off of his game.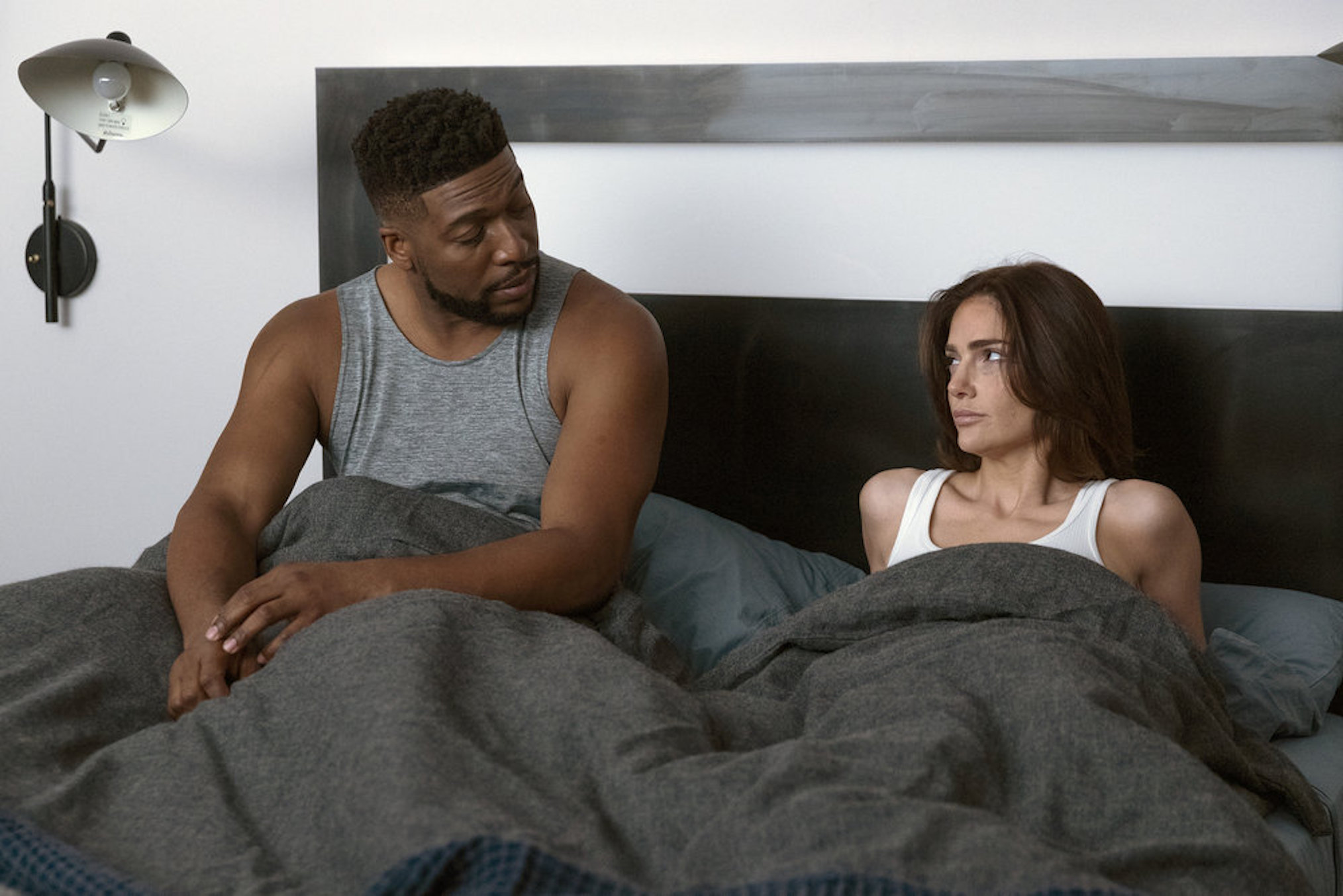 It seems like if Reynolds is going in in his relationship, he may want to encourage those around him to do the same, right?
Yeah. Reynolds poses a question coming up in an episode to Max: "Did you think that we'd still be boyfriends at this age?" [Laughs] And he's like, "No, I didn't. I did not see that coming at all."
We've gotten some great Reynolds and Bloom (Janet Montgomery) scenes in recent episodes, between the revelation about her abortion and now what happened to her sister. Are there more to come?
Heck yeah. I don't know specifics as to what's going to happen with Bloom and Reynolds, but I'm sure the writers — I think they've done a great job this season. You mentioned the abortion, of just resurrecting that relationship and discovering that there was more history there in the past, I loved that episode. It was just fantastic to dive into that with Janet. But I think that they should put a bow on that relationship, that friendship, at the end of the series, and I don't doubt that they will.
Yeah, it was nice to have that reminder of Season 1 and also just the way that they are now, like her staying at his place in the beginning of the season…
Yeah, it's so cool. God knows he's been having so many troubles with his relationships and the idea that we can sort of kind of revisit that, it just feels like you're kinda watching Season 1 again when you see these two together.
What can you say about how the series ends for Reynolds?
Not just Reynolds, but for everyone — from what I hear, because full transparency, I haven't read the final episode yet because I want to wait for the table read — without spoiling anything, you'll get to kind of know the characters even more, learn why they are who they are. And I think that we'll wrap up the show with that mantra moving forward — How can I help? — for generations to come. And then when you see it, you'll look at these two statements and go, "Oh, that's what you meant by that."
What do you think of this preview of New Amsterdam Fall Finale, airing Nov 22? We at Survived The Shows are definitely looking forward to seeing what's next for our favourite hospital!
Keep following us to stay updated on the world of New Amsterdam, but also many other movies and TV series!
Chiara
Source: TV Insider
Please check out our Facebook page SurvivedtheShows, Instagram page @survivedtheshows and Twitter page @SurvivedShows to keep yourself updated on the world of TV series and movies, but not only!