Good morning, clan! The very long and craved Droughtlander is finally over, and you can't even imagine how happy I am to being able to say so! Today we're talking about the first episode of the very anticipated season five of Outlander, The Fiery Cross!
Warning: this review contains major spoilers from the premiere of Outlander season 5 and partial references to the fifth book of the Outlander series "The Fiery Cross"
Feelings, passion, drama, humour… there could not have been a better way to start this fifth season, as well as to adapt one of the most spacious and slowest parts of the fifth book of the Outlander series by Diana Gabaldon, on which this season of the series is based.
In the opening, as a small introduction, there's a flashback that takes us back into the Scottish countryside, and in particular to Lallybroch, where we meet a little Jamie Fraser and his godfather Murtagh. The latter, following the death of little Jamie's mother, makes an oath to him, kneeling at his feet, swearing to protect him and always be at his side in any battle that comes, as he did at his birth before Jamie's mother, Ellen, who he's always been in love with. A very exciting scene, and also a premonition in a way, if we think that the two are now on opposite fronts… and God knows what will happen, this is just the beginning.
Back in 1770, at Fraser's Ridge, Roger and Jamie sort of start bonding after last season's events. As you usually say, we start with the simple things, and in this case we see Jamie helping Roger shave with his razor, since he almost slit his throat. A very funny scene that heralds an unforgettable relationship. Roger would like to point out to his father-in-law that, despite his poor practical skills at the time, he is ready to make efforts and provide for his family, as he loves Brianna very much and their baby Jeremiah (fun fact: the child takes its name from Roger's father). Throughout the episode we see a Jamie not very convinced about Roger, but let's give time to time… Their is a bond that I personally adore from the books and that in this season, as Sam Heughan (Jamie) and Richard Rankin (Roger) have also emphasized in various interviews, will be very central. 
And a few months later, we are all invited to celebrate the long-awaited wedding of Roger and Brianna at the Ridge! The couple, who if we remember well had already married symbolically with the handfast ritual a year earlier in Wilmington, renews the promises of eternal love in an official way before a Pastor (Which makes Jamie's nose a little woozy, given his deep Catholic faith) and all their friends and family. Full of emotional scenes and tearful memories, this wedding has certainly not disappointed the fans' expectations, even those more fond of the literary version (which is slightly different). Personally, I wouldn't know if I was more excited to see Claire get emotional preparing her daughter for the big moment, Jamie giving her daughter "something old, something new, something borrowed, something blue" (and a six silver pence from Murtagh) as the tradition wants and walking her down the aisle, excited but also a little jealous, Roger and Brianna's eyes in love during the ceremony or Jamie and Claire who, during the vows, recall their wedding (with flashbacks which gave us immediate tears) still in love like the first day.
Even the celebrations go great, between fun and dancing, the two newlyweds are happier than ever, and even their friends seem to have a lot of fun… in fact we see a group of tenants and friends of the Fraser among whom we recognize the unmistakable John Quincy Myers (the one who helps them to settle in the American territories and deal with the Indians), Fergus, Marsali and also Lord John, who are playing a game called "Forfeit" in which one has to recite tongue strikes and those who make mistakes have to drink. Of course, absolute Queen Marsali holds all the men present. Special mention also to the scene where little Germain (Marsali and Fergus' eldest son) tells Uncle Roger if it is true that he has ticks as Grand-père (Jamie) says. ICONIC MOMENT.
Another scene that I loved very much, although we don't often see scenes like this in Outlander, was the montage on the song L.O.V.E., which Roger sings to Brianna once they go to the bedroom after the party, a celebration of love that represents all couples during the night of the celebrations: Jamie and Claire who have to deal with the continuous cries of their little grandson Jemmy, Murtagh and Jocasta who enjoy each other's company for the last time, Brianna and Roger celebrating their renewed love… and then there's Lord John alone surrounded by drunken men, perfect symbol of never a joy :')
One of the plots that make my stomach and heart squeeze more, besides conveying an important message, is that of our Bree, who overhears a conversation between her father Jamie and Lord John Grey that deals with Stephen Bonnet. You heard, the father of the bride Jamie Fraser and Lord John (also called by Diana Gabaldon "Sherlock Fraser and Lord John Watson") are looking for the bandit who sexually assaulted Brianna last season, to kill him and getting revenge for the girl. Just hearing his name, the young girl is pervaded by memories of that night in Wilmington, which have haunted her for some time now and certainly does not make exception on her (second) wedding night. On her return to the party, she tightens her baby to her chest and cradles him while watching her husband dance happily. Unfortunately, however, this situation is not so easy to overcome, and as Sophie Skelton has stated in various interviews, during this season we will see Brianna facing a deep PTSD due to rape.
Also, unlike the books where we have news from Lord John Grey only through some letters to Jamie, it is very nice to see our (unique) favorite Red Coat on the scene again as an integral part of the action. Protagonist of all kinds of scenes, going from the dramatic, when he reveals to Jamie that he knows that there had been sighting of Stephen Bonnet in the province, to the emotional scenes, both when she watches Brianna marry the love of her life with commotion and when he talks with Jamie about his little son Willie (a scene that personally tightened my heart, WE MISS YOU WILLIE), to humour, when we see all the other couples happily in love, and then there's John alone surrounded by drunk Highlanders :') or when he starts playing forfeit with the clan.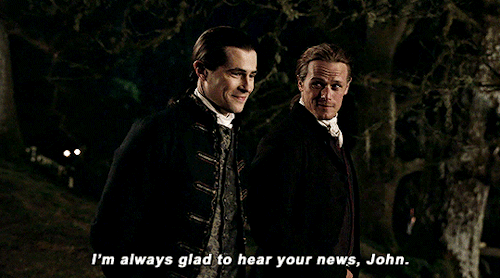 Of course it would be too good if the joys were forever, but in perfect Outlander style, the never a joy is straight around the corner, and this time it has the face of Governor Tryon. His Excellency makes his royal surprise appearance at Brianna's wedding, and wastes no time to put the bug in Jamie's ear, reminding him of his debt to the Crown and that it is now time for him to fulfill his task: to capture Murtagh Fitzgibbons, his Godfather, leader of the rebel so-called regulators. Which puts Jamie in a bit of a pickle, a bit of a pickle, and a little bit of a pickle for the future revolutionary war. But we'll talk about this later…
Returning for a moment to Murtagh, miraculously found in Wilmington as a blacksmith last season, he is now a wanted by the Crown for leading a group of rebels called the regulators. As a result he is in continuous flight and for obvious reasons he is forced not to attend Brianna's wedding, and we will see him meet his beloved (still makes me laugh call her so) Jocasta, in a shed in the woods of Fraser's Ridge, where they will spend the night together, admitting with regret to having to part with the situation… Jocasta also reveals that Duncan Innes (who will turn out to be an old prison mate of Jamie and Murtagh himself in Ardsmuir) has asked his hand in marriage. Is there a phantasmagoric triangle coming with our Murcasta?
In the mess of the daily routine of the Gathering at Fraser's Ridge, Claire inaugurates her brand new surgery (one of the few completed environments within the Great House), and we have the opportunity to meet various characters, including Josiah Beardsley (Paul Gorman). A very young and very good hunter, branded on a hand as a thief, whom Jamie immediately adorns as possible future colony at the Ridge. A character that promises to be interesting from the first meeting. In addition, the boy, in the queue at Claire's surgery with a pain in his throat, is immediately impressed by Lizzie, Brianna's friend and servant… who knows that there is something between the two. Furthermore, I can't wait to see more of his background story.
One of the most beautiful scenes of this episode in my opinion is the chat between Roger and Jocasta Cameron, Jamie's aunt and real Fox MacKenzie, who, thinking that dear Roger married Brianna only because she's gonna be heir of her property, she warns him through even quite explicit digs, in addition to the fact that he intends to make Jemmy his heir, so that Roger cannot have his money. Fortunately, Mr MacKenzie is of the same race, so he can solve the situation with a perfect response. "I may not have any money or property, but I have time. And I'm going to dedicate mine to Brianna and Jeremiah. Let me tell you very clearly. I don't want your money. My wife doesn't want your money, and my son won't have it. Cram it up yer hole, aye?" Unforgettable scene, interpreted in a truly masterful way by Richard Rankin and Maria Doyle Kennedy, to whom I allow myself to make a special mention because, like all the cast, they always nail it greatly.
After the argument with Jocasta, deeply wounded but at the same time even more convinced and determined, Roger returns home to his family, everything that matters to him. With his gaze straight in Brianna's eyes, he kneels on little Jemmy's cradle and makes a blood oath to his son, so as to officially recognize him as his own, although there is still doubt about fatherhood. "Something I should have done a long time ago" he tells Brianna. A truly honorable and noteworthy gesture that moved me greatly. May this be the first of many beautiful moments between them. THE MACKENZIES ARE HERE!
Another highlight of this episode and a moment that in my opinion profoundly marks Jamie's narrative arc begins at the exact moment when Governor Tryon kindly informs him that he must gather the men and leave within a week, and use the Scot in him to lure and capture the rebels and in particular his godfather Murtagh. It is at this very moment that Jamie takes a more legitimate doubt, not so much for this hunt as for the future American Revolutionary War: At a time when Jamie will no longer be on the side of the British, the men of the Ridge will be loyal to him. So the Governor wants a Scot? And a real Scot will have. BOOM. The soundtrack of Culloden's preparation in the second season plays, Jamie dusts off his kilt, tension and goosebumps high. A tremendously painful and important step for him to make, that takes us back to the past, but at the same time marks a new beginning. He gathers all the men of the Ridge and, as each leader does before a battle, sets fire to the cross, explaining its meaning and inviting his "brothers in arms" to follow him and stand on his side, taking an oath that very evening, before all. It was a moment that really struck my heart, both for all the memories related to Jamie as leader and the last battle of all the clans at Culloden, and for the tension surrounding the time of the call, be thrilled to see Jamie first take Roger under his protective wing, call him "son of my house" and accept him into the family and then call Fergus "son of my name and of my heart", his son of the heart. In the commentary at the end of the episode, the author of this episode and showrunner Matthew Roberts together with the executive producer Maril Davis have specified that although in the book Jamie wore again the kilt already in the last season, At their reception at River Run, they found it more sensible to wait until the time was right to pull out a piece so important and fundamental to his story, and what better time than a war? I couldn't agree more with this choice.
And then there's the last scene. This finale has literally wrecked me, and once again I wonder how it is possible that this series has not yet won awards of some kind, despite being of such a high quality. We see Jamie and Murtagh meet again for one last time in the woods, accepting unfortunately the reality of their opposite positions, saying goodbye between various memories and sentiments. At the very last, young Fraser tells his Godfather the most heartbreaking thing ever and then starts crying: "Please go, be hard to find". It will be terribly difficult to see them deployed on two opposite fronts.
See you to the next episode!
Chiara
Please step by our Facebook page SurvivedtheShows too.