Claire may be our 18th century superheroine, but what she experienced in last season's finale really turned her every certainty and balance upside down. And the drama doesn't end there, as Caitriona Balfe told us ahead of the launch of Outlander Season 6, which is currently airing on STARZ and STARZ and premiering on Sky and NOW TV in Italy on April 26!
Kidnapped. Beaten. Raped. Claire Fraser (Caitriona Balfe) has a lot of psychological baggage to deal with after the events of the Outlander 5 finale, which as we got to see will lead her to find refuge in one of her medical innovations: the ether. And as if that wasn't enough, Richard Brown is always lurking, ready to show up at the Ridge with their Security Committee and keep an eye on the Frasers, who are out for revenge after the suspicious death of their brother Lionel.
"The Browns are a sort of continued fold throughout the season. Obviously now they have this Committee of Safety, so they're a menacing presence. As long as they're here I don't think it will ever be easy for Claire to forget the events that happened, you know, not that long ago. It's not that long ago when we pick up in season 6. And even though she's trying to keep this brave face on, she's in a lot of pain. I think because she's not actively dealing with the pain, she's experiencing this PTSD."

Caitriona Balfe
One question many fans have been asking since the release of Outlander Season 5's final episode is whether it was Marsali who avenged what happened to Claire by mercilessly killing Lionel Brown in the doctor's office, and whether Claire feels guilty that she had to make such a strong gesture.
"Of course she does, Claire feels guilty… as do a lot of people over the course of the season. Everyone in some way takes responsibility for something that none of them are actually responsible for. We see a lot of people dealing with the aftermath of what happened. Not just Claire, but it has had a wider repercussion on the whole family. It's going to take a long time for them all to really get over this."

Caitriona Balfe
Caitriona also talks about how she has been working closely with the writers to define the storyline around Claire's trauma.
Although she hasn't had a chance to see the episodes that focus on that theme, she was very pleased when they received the final scripts.
"As far as I'm concerned I've been working very closely with the writers to try and portray this process of Claire dealing with PTSD and the unravelling. How to find the right voice and what the right tone was and things like that. There was a great collaboration between me and the writers and also with the directors coming in as they went in. It all revolved around the fact that 'if we're giving voice to her deepest, darkest fears, we have to make sure that those are absolutely correct and true to her as a character and her life experiences'."

Caitriona Balfe
In the welter of tragic events of the season 5 finale, Claire gets to meet, among the ranks of her captors, a face that is kindred to her: Wendigo Donner.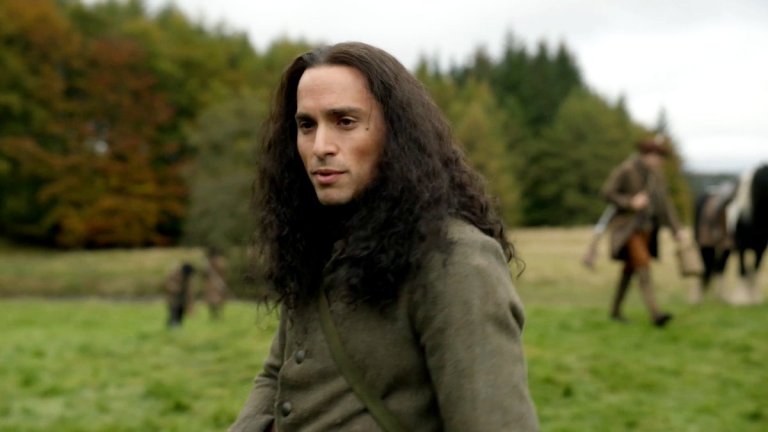 Wendigo Donner is one of the time travellers from Robert Springer's group, whom we know better as Otter Tooth. Although he seems innocent on the surface, in the course of his approach to Claire, it becomes clear that the man has far more serious and devious intentions. Many fans have often wondered over the course of Droughlander if Outlander 6 would still feature this time traveller, and Caitriona Balfe, chuckling, replies….
"Yeah, I think, maaaaybe [Laughs]. You know maybe I think we haven't really seen the last of Wendigo Donner. That's all I can say."

Caitriona Balfe
Her answer was later confirmed by the final scene of episode five, "Give Me Liberty", which sees a Wendigo Donner-like Indian-looking man, imprisoned for stealing an emerald from Flora MacDonald, whistling a modern tune.
This season, Caitriona Balfe and Sam Heughan have once again embraced the role of producers.
With the executive producers stuck in America due to the pandemic, the two played a bridging role between the cast and production, listening to the fears and uncertainties of the actors and crew.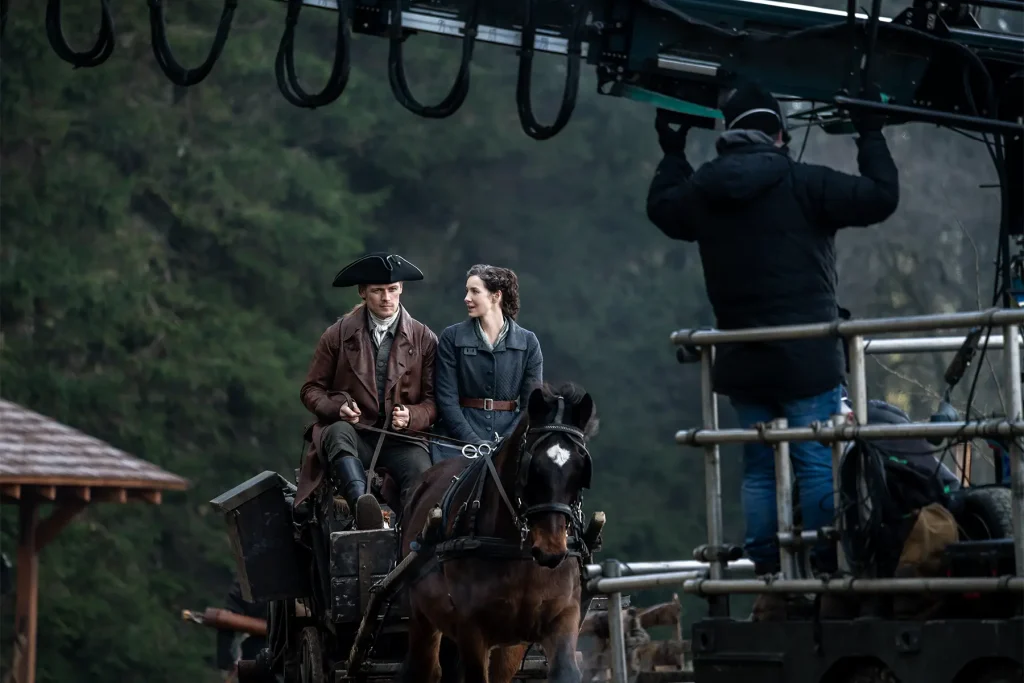 This season was obviously a challenging season for many reasons. We were in the height of COVID-19. We were shooting during the lockdown, it was also the height of winter. It was very complex and I think that one of the things that Sam and I were able to do is that we were on the ground every single day. Our writers, executive producers, our showrunners weren't able to come to set. They were in America. So we didn't have the luxury of what we would normally have, which is a present showrunner.

One of our writers-producers Barbara was in Scotland but she was literally, you know, overseeing one block, while helping oversee prep for another block, while also doing rewrites, while also doing a million other jobs and she needs to have an absolute medal for her work this year. It was a tough season and I think that Sam and I were able to really help out was that we were a really good liason between everybody on the set and you know, the production offices and seeing what was working, what wasn't. Listening to people's fears.

There was a lot of fear, a lot of anxiety for people. You know, we were shooting in a really precarious time and we had some amazing protocols and we were testing so much, but people still there was a lot of uncertainty about 'were people always safe?' and we were. We managed to get to the end of the season without any of the shooting crew getting COVID which is kind of a miracle.
Keep following us for more news on Outlander Season 6 and its cast!
Chiara
Source: SPOILER TV / STARZ
Don't forget to like us on Facebook, Instagram and Twitter, Survived The Shows / @survivedtheshows / @SurvivedShows to keep updated!