Rafferty, Pamela Blake from Chicago Med, has been credited as an actress in more than 30 different productions
Pamela Blake, Sarah Rafferty, from Chicago Med, were in other show. Let's see wich ones!
Back in October, it was announced that Sarah Rafferty would be joining the cast of NBC's "Chicago Med" in a recurring role as Pamela Blake. Since her first appearance in Season 7, Episode 5 ("Change is a Tough Pill to Swallow"), Rafferty has appeared in every new "Chicago Med" episode, last popping in on Season 7, Episode 9 ("Secret Santa Has a Gift For You"), the final entry of the series set to air in 2021.
On "Chicago Med," Rafferty plays Dr. Pamela Blake, a gifted transplant surgeon, but if you've been watching television for any significant amount of time, you'll probably recognize her from any number of previous roles the gifted actress has appeared in over the course of her career.
Since 1998, Rafferty has been credited as an actress in more than 30 different productions. While most of her credits have so far involved single-episode guest spots, she has had one particularly memorable role on a USA Network series and a handful of other jobs that you may have seen.
She recently played a recurring patient on Grey's Anatomy, after Pamela Blake from Chicago Med
No stranger to medical procedurals like "Chicago Med," Sarah Rafferty previously appeared as a recurring character in Season 16 of ABC's "Grey's Anatomy." Rafferty first appears as a patient named Suzanne Britland in Season 16, Episode 11 ("A Hard Pill to Swallow").
In her first scene on the series, she sits in a hospital bed, surrounded by family members a whole three days after undergoing an operation to remove her appendix. Sadly, Suzanne lost her husband in the prior year and her children are terrified to leave her bedside. What should be a routine procedure, however, is complicated by a fever and a high white blood cell count that doctors are unable to explain.
In order to closer examine her condition, doctors conduct a CT scan of her abdomen. Unfortunately, Suzanne suddenly codes in the middle of the scan and doctors are forced to perform an emergency pericardiocentesis in order to remove fluid building up around her heart. Sadly, the doctors are unable to discover what is wrong with Suzanne before the end of the episode.
Suzanne returns for two additional episodes in Season 16, Episode 13 ("Save the Last Dance for Me") and Season 16, Episode 14 ("A Diagnosis"). After much research and worry, the doctors are finally able to diagnose Suzanne with Still's disease, a condition which actually predated her appendectomy. They prescribe Suzanne a set of steroids and refer her to a rheumatologist for long-term care, but her overall prognosis is very positive.
She played Donna Paulsen on Suits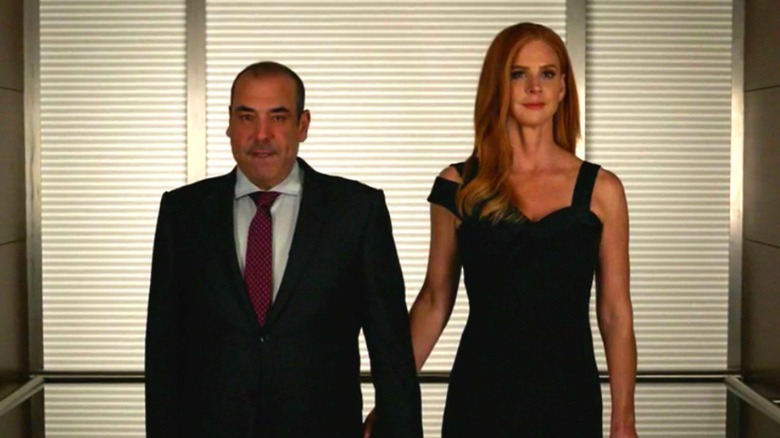 Easily Sarah Rafferty's most memorable role yet is her job on USA Network's "Suits," in which she played secretary (later Chief Operating Officer) Donna Paulsen. By the time "Suits" ended in 2019, Rafferty had appeared in every episode of the nine-season drama. Tying fellow stars Gabriel Macht and Rick Hoffman for the most episodes of any actor on the series
In the pilot episode, Donna allows Mike Ross (Patrick J. Adams) to enter the interview that led him to fraudulently become an associate at Pearson Hardman, under the tutelage of Harvey Specter (Gabriel Macht). Donna plays an integral role through all nine seasons (and even a few episodes of a web-series).
She is well known around the office for her seemingly infinite levels of loyalty to Harvey and her equally infinite levels of wisdom. Rachel Zane (Meghan Markle) makes ample use of Donna's wisdom throughout her time on the series and the two become close friends. This is true both on and off screen. In fact, Rafferty is one of a handful of "Suits" cast and crew who were invited to Markle's wedding to Prince Harry in 2018.
Though fans rooted for Donna and Harvey to get together since the beginning of the series, it takes until the final episode of the penultimate season for the two loyal friends to finally declare their love for each other. In the series finale, the two character get married and move to Seattle.
She was on the first season of CSI: Miami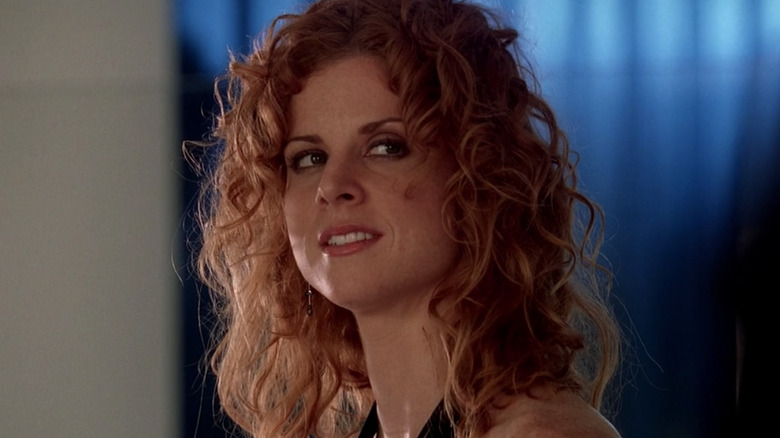 One of Rafferty's first television appearances came in "CSI: Miami" Season 1, Episode 7 ("Breathless"). In the first moments of the episode, Rafferty is seen hosting a party at a mansion. While it appears that Melissa Starr (Sarah Rafferty) is having a good time during the party, the morning discovery of a dead body makes for a rather unfortunate end to things (both for the party and the dead man).
When Horatio Caine (David Caruso) and the rest of his team arrive to investigate, they are forced to interview each and every possible witness. Third on Caine's list is Melissa, who he finds cleaning up after her guests. During their first, short meeting, Melissa explains the idea behind a cupcake party.
According to Urban Dictionary, a cupcake party is "a party hosted by many women where only one man is invited (often times a hired stripper) with the sole purpose of ganging up on him and humiliating him sexually…"
This are the shows of Sarah Rafferty, Pamela Blake from Chicago Med.
Keep following us to stay updated on the world of movies and TV series!!!
Caterina
Please check out our Facebook page SurvivedtheShows, Instagram page @survivedtheshows and Twitter page @SurvivedShows to keep yourself updated on the world of TV series and movies, but not only!